World Expo is a playground for architects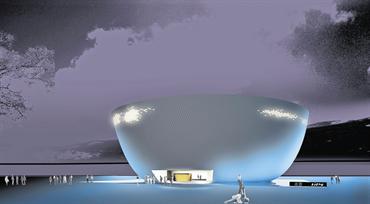 At a riverfront construction site in Shanghai, architect Andreas Bruendler scratched his head under his hard hat as he tried to explain his concept for Switzerland's pavilion at the 2010 World Expo.

A chairlift that will carry visitors spiralling up a shaft and then over a rooftop meadow before returning inside? That is an easy one. Exterior tiles encasing solar cells in a soybean resin? A bit more challenging – never been done before.

Since the days of London's Crystal Palace at the first World's Fair in 1851 and Paris' Eiffel Tower in 1889, expos have showcased the latest advances in architecture and engineering.

Shanghai's 2010 expo aims to awe as well.

Many of the nearly 200 countries participating in the six-month event, which begins on May 1, have poured more money into pavilions than usual in a bid to do national branding and woo consumers in the Asian giant, say officials.

In theory, the buildings will only stand for the duration of the expo, which is expected to draw 70 million visitors, most of them Chinese. But Bruendler said that temporariness is liberating.

"You can explore new concepts. You're closer to a free idea," he said. "With a 'real' construction, it has to hold for 20, 40, 60, 100 years. The limited period for which the pavilion stands here gives you a chance to think about the future developments in architecture."

After international competitions and months of construction, the steel, glass and wood exteriors of the national pavilions are finally taking shape at the venue.

Katerina Dionysopoulou, the project architect for Britain's pavilion, said she and her colleagues at Heatherwick Studio were inspired by a photo from an old expo showing people "trying to figure out what to do".

The spiky British pavilion is built around the concept of the Royal Botanical Garden's Millennium Seed Bank in London, which seeks to preserve plant life threatened with extinction. The whimsical result – with influences ranging from Victorian gardens to science fiction films – is captivating.

"We realised we had to do something that was so different that people would just literally go towards it," Dionysopoulou said. "We took all the seeds and decided to encapsulate them just like the DNA in the amber in Jurassic Park. We are putting them inside 7.5-metre acrylic rods. The daylight will make them shine and a small LED embedded in them will make them glow in the night."

A total of 60,000 rods will protrude from a timber box, she said. "They will catch the breeze of the river and, hopefully, just quiver," she said.

For Italy's pavilion, architect Giampaolo Imbrighi imagined how falling pick-up sticks – a game Italians call 'Shanghai' – could trace the outlines of narrow lanes reminiscent of both Chinese and Italian cities.

A new material called transparent cement will make up 40 per cent of the pavilion's surface area so that its appearance changes throughout the day.

"The different degrees of transparency make it possible to see light from the interior on the outside – and vice versa," Imbrighi said.

Finnish architect Teemu Kurkela's pavilion also experiments with a new material. A genuine white marble exterior was beyond the budget for his 'Kirnu' design, which resembles a giant pestle. So his team improvised.

"The surface of the pavilion is made of industrial waste," Kurkela said.

"We are using this paper that has been made waterproof by using plastic. This is a new product developed for the pavilion."

As part of efforts to develop greener and more energy efficient buildings, many of the pavilions will harness natural light and will also be cooled naturally.

Some, like the Finnish pavilion, are designed to be dismantled after the expo and transported elsewhere to be rebuilt and re-used.

Time and budget constraints can force expo pavilion designers to be even more creative, Kurkela said.

"Or maybe we're just crazy," he added.

Bruendler eventually finds the word he was grasping for to explain the intelligent soybean resin tiles.

"It's a battery," Bruendler said, explaining that a visitor who uses a flash to take a photograph of the pavilion could trigger a chain reaction of light running around the building.

"The cells collect energy during the day and once their tank is full, they flash. They flash by themselves, but they also have a receiver. So you could provoke the flashing of the whole facade," he said.
Keep up with the latest business news from the region with the Emirates Business 24|7 daily newsletter. To subscribe to the newsletter, please click here.
Follow Emirates 24|7 on Google News.