Youngsters aspire to be Al Fahim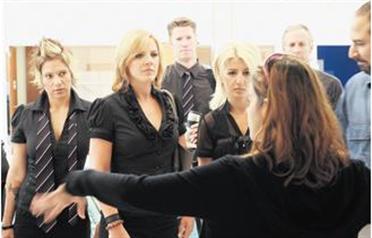 While residents in the UAE might be worried about their jobs, property prices and the economic situation, is it any wonder that we still like to read something positive. In Emirates Business on Friday, our top read of the week was the story about Dr Sulaiman Al Fahim – the CEO of Hydra Properties – being appointed to the international advisory council of Benedictine College in the US state of Kansas.

With his current show Hydra Executives, Al Fahim has become somewhat of a celebrity here in the UAE. While playing the Donald Trump of the Emirates, he is in the public eye and young people aspire to be him and enjoy his level of success through hard work and determination. Whether students are looking to become multi-millionaire business leaders or masters of astronomy – both can be studied at Kansas – Al Fahim is an inspiration to many and an excellent role model. Let's hope his students take on his advice; they could learn a lot.

In other news – and making it into the top five reads online from last weekend – was the ongoing woes of the global financial crisis and who's to blame for it. At the Future Capitals event in Abu Dhabi, CEOs and chairmen came under fire for their role in triggering what could be a worldwide recession. Speakers at the summit accused bank chiefs of "recklessness" and "irresponsible behaviour" and leaders in the UAE said they had to take heed of the mistakes of others in order to emerge as a world capital.

Claude Begle, Chairman of Swiss Post said: "We've seen CEOs of banks looking to take more and more return while taking more and more risk. What has happened is like a snowball effect. One day the whole card castle had to collapse."

Hindsight is a great thing and although it is easy to blame others – whether greedy individuals, banks or entire countries, it is not going to get us out of this mess. Hopefully learning from the past will ensure a more stable future for the next generation.

The Dubai Financial Market continued to be of interest to our readers with the story on the markets decline making it into our most read of the week. Real estate stocks crumbled under heavy selling pressure and Arabtec, Emaar, Union Properties and Deyaar Development all suffered heavy losses alongside insurance and investment stocks.

Wadhah Al Taha, a senior market analyst, cited some factors including a "tendency among listed companies to avoid the distribution of cash dividends" and he highlighted a new trend among investors that saw "some institutions and funds postponing their planned long-term investment until the end of the first quarter of this year".

At any one time, the main topic of conversation among UAE residents is rent and property prices and once again the subject made it into last week's top reads.

The piece by Sean Davidson in our property pullout compared the prices per sq ft of apartments and villas in 2008 with the current scenario.

Although experts say it is too early to predict this year's trend in the market, once the first quarter of 2009 is over there should be more of an understanding of where we are heading.

And with rent prices still high across Dubai and Abu Dhabi it will be a welcome relief to many if they can finally invest in a property, rather than continue to pay inflated rents.
Follow Emirates 24|7 on Google News.