Yves's treasures go up for auction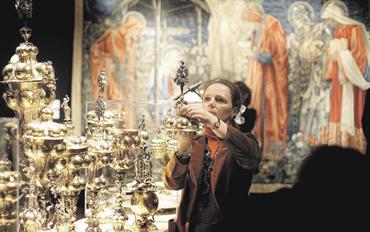 After designer Yves Saint Laurent's death last June aged 71, his partner Pierre Berge opted to part with the 732 treasures that graced the couple's homes.

The auction, on Monday, Tuesday and Wednesday, is expected to fetch up to €300 million (Dh1.4 billion).

Including works by Picasso, Mondrian and Matisse as well as old masters, Art Deco pieces and antique bronzes, the collection goes on display from tomorrow at the Grand Palais in Paris.

"The time has come to dissolve this collection," Berge says in the auction catalogue. "I do so without regret, without nostalgia." A shared passion, "it has lost the greatest part of its significance".

Already coined "the sale of the century", proceeds are to go to a Berge/Saint Laurent Foundation honouring the designer's work and to a fund for scientific research and the fight against Aids.

"I hope that everything that we have loved with so much passion finds a home with other collectors," said 78-year-old Berge, a business tycoon, patron of the arts and longtime commited leftwinger.

From a Cubist-period Picasso to a Brancusi sculpture never seen in public and a rare Eileen Gray designer chair, Saint Laurent decorated their homes in a crossover of styles that came to epitomise the very top in Parisian taste.

Christie's, which is organising the three-day sale with Berge's own auction house, sees the event as "a milestone in the history of great auctions", comparable to a 1987 sale of the Duchess of Windsor's jewels, or the Thurn und Taxis auctions of 1992 and 1993.

"No art-lover anywhere in the world can remain unmoved by this auction," Francois de Ricqles, Christie's France vice-president, said.

Among other masterpieces are works by Toulouse-Lautrec and Leger, as well as a Mondrian that once belonged to film director Otto Preminger.

Saint Laurent, pictured below left, whose love affair with art was reflected in his couture, paid homage to Mondrian in a now legendary 1965 catwalk show.

"It is an extraordinary collection, however you look at it," said de Ricqles.

Gathered by the pair rather in the style of Renaissance princes, he said, the rare pieces were in impeccable condition.

Along with contemporary oils are antique statues, 16th century silverware and even ancient Chinese relics allegedly snatched from a Beijing palace and which China is reportedly angry to be seen going under the auction hammer.

The sheer size of the sale is exceptional and the outcome will provide a good indicator of the current state of the art market.

For the auction, Christie's has printed a five-volume, 1,800-page, €200-opus that weighs 10kg.

Eight auctioneers will work in shifts during the three-day event, with 100 telephone lines installed and seating for 1,200 buyers.

The early 20th century Brancusi sculpture, estimated at €15-20m, was first acquired by Leger in exchange for one of his own works and has never previously been on the market.

A brown leather Dragons armchair by Irish designer Eileen Gray is a unique piece estimated at €2-3m.

A Marcel Duchamp work will be the first by the artist ever sold by Christie's from his Dada period.

A looming hitch is a threat by a group of Chinese lawyers to sue Christie's over the sale of two bronze animal heads that once adorned the Old Summer Palace, or Yuanmingyuan, stolen when Western armies burned it down during the second Opium War in 1860.

The auction house however has confirmed that the relics would be sold.

"There are no problems as far as we are concerned," a spokeswoman said.

China's state Xinhua news agency said this week that legal obstacles were likely to hinder the bid to stop Christie's from putting the bronze rabbit and bronze rat head on the block as international laws and treaties on illicit trade in cultural property are unlikely to apply to the 1860s.

The exhibition of the Saint Laurent collection is open Saturday and Sunday from 9am to midnight and on Monday morning.
Follow Emirates 24|7 on Google News.