Exhibition captures images for posterity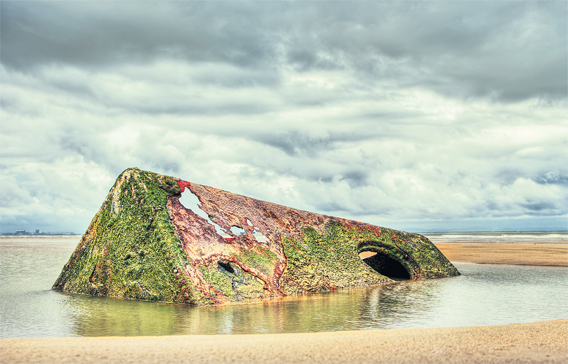 For every single one of us who has ever regretted being unable to capture for posterity a fleeting image of life as it happens, a new exhibition at the Gallery of Light shows how it's done.
The event, which kicked off yesterday at the Dubai Community Theatre and Arts Centre (Ductac) complex at Mall of the Emirates, features the work of six photographers over the next two weeks.
"Each collection of individually themed work holds you still among the rush of everyday life, allowing you to soak in the image, to stay with it a little longer," says Miranda McKee, Project Co-ordinator, Gulf Photo Plus.
The exhibiting photographers, David Nightingale, Steve Simon, Robin Nichols, Zack Arias, Joey Lawrence and Melissa Rodwell, are hosting workshops for the sixth annual Gulf Photo Plus event, which begins today and runs all week.
McKee, who collaborated with Fathima Mohiuddin, Ductac's Visual Arts and Special Projects Manager, on the exhibition, says there is no specific theme uniting the work. "They all come from very different angles and genres, so we allowed the photographers to come up with their own individually themed collections. In this way we get to see the best work from each," she told Emirates Business.
"Nightingale's work is at once beautiful and saddening, as his subject matter brings attention to the manner by which we abuse natural environments.
Joey L shows us a stunning array of images that most would never otherwise have an opportunity to see. Each collection will affect you in a different way, but you will most certainly be taken back by the photographic talent of these individuals."
Mohiuddin says the show is an attempt to provoke the city's creativity.
"I think inspire is really the key word. The art scene here is still very young and by bringing in artwork of this range, standard and esteem it's not just about consuming it but actually being inspired by it. A lot of these photographs don't just move or intrigue you, they make you realise there's unique ways of expressing the experience of your surroundings.
"I'd love to see work like this inspire photographers in Dubai to start looking at and depicting their familiar city differently," she says.
Ahead of the show, Emirates Business asked five of the photographers what they're showing at the event; a preview is presented here.
Prices for the photographs begin at Dh500.
- In the Blink of an Eye runs at the Gallery of Light, Ductac until March 13.
Call 04 341 4777
Melissa Rodwell
Los Angeles glamour girl Melissa Rodwell wants to show that fashion photography isn't all merely about the advertisers' clothes, but that it can be artistic.
"Fashion is all too often labelled as a superficial business. I would like to think that my photographs emote something more than the common catchphrases used in my industry," she tells Emirates Business. On a two-day workshop at Gulf Photo Plus, she will take participants through every step involved in creating a stunning fashion visual, from briefing hair stylists and make-up artists to selecting wardrobe right down to fabric choices, taking the shots and post-production.
For the Ductac show, then, she will be exhibiting a collection of fashion photographs taken over the last few years that she says easily blur the lines between art and fashion. "The images emote a certain strength and a precise moment, which I do try to capture in my work," she says.
"When I am photographing fashion for art or commerce, I try to capture a moment of bliss. Maybe it's in the model's eyes, or in the way he/she is posing or moving, but I try to bring the idea of 'other-worldliness' to my work and take the viewer away from his/her own preconceived notions of 'what is beauty' or even 'just another fashion picture' and take them further into the photograph by catching them by surprise and making the viewer want to look deeper," she says.
The beach photo, pictured on the left, was shot in Malibu, California.
Joe McNally
Made famous for his pictures of the United States Olympic team naked except for strategically placed sporting equipment, McNally has also memorably shot dance all over the world, most notably his Ballerina on a Rooftop series of the Bolshoi Ballet.
A contributor to Time, Newsweek and National Geographic and the author of two bestselling books, he will present a series of dance images at the Ductac event.
"Dance has been one of the themes of my photography for a long time now," he says.
The photograph, pictured on the right, was shot in Moscow, and was of one of the principal dancers with the Bolshoi Ballet.
"I shot it as part of a series using images of the arts to contrast and explain the turmoil that was boiling up all over Russian society. I took this dancer to the tenement where I was staying and contrasted her delicate beauty with the grimy stairwell.
"My dance work, if it has a message, is that this art form of ballet is one of the highest, most exquisitely difficult and beautiful expressions of the human form and spirit. Dancers such as these lift us all up. They soar, we watch, and in the watching, our hearts soar."
While a photograph is literally a slice of second, McNally says a lot of work is the result of planning, imagination, lighting, and staging.
"I'm trying to communicate or explain a theme or an idea, so a shot like this, as impromptu as it looks, is planned and orchestrated. The actual picture is a split second."
David Nightingale
When he isn't changing diapers or running after his seven children between commercial shoots and blogging, Blackpool-based Nightingale goes beachcombing. A series of abandoned items or those washed onshore by the tides form the core of his contribution to the show.
So is there a message in a few pieces of flotsam and jetsam? "Creating a photograph and viewing a photograph are two different things. As such, I'm not sure there's a particular message, I want these images to convey other than perhaps demonstrate that even mundane and apparently trivial items often have a story to tell," he says.
Steve Simon
HIV and its impact on Africa is the focus of Canadian photographer Steve Simon's series.
Passionate about documenting life through photography since he began taking pictures, he says the strongest images are ones that are not set up, but which capture everyday life and the revealing moments within. "It requires an investment in time, to be there when these moments happen. I can never spend the time I would like to for this work," he says.
Simon first visited Africa in 2002 with a trip to Zambia to cover the HIV/Aids story for an NGO to promote awareness in his native Canada.
"And I kept coming back," he says. He has since visited Zambia, South Africa, Rwanda, Somalia and Ethiopia.
"I love the places I've seen and the people I've met, and as a photographer, there are spectacular landscapes and a unique and beautiful quality to the light I've experienced. Beyond that, I do believe photography can have a positive impact on the places and issues I aim my camera at, and good can come from sharing the work with people who have never been to these places."
The work has led to a project and a book, Heroines & Heroes, Hope, HIV and Africa, pictures from which are at the show.
"I wanted to show a balance between the devastation left by Aids and the resilience of those who persevere, and some of the positive steps being taken to curtail the spread of Aids."
Joey L
At 20, self-taught Joey L has the likes of 50 Cent and the hit film Twilight in his portfolio and has done advertising work for the likes of Discovery Channel.
But far more interesting is the documentary work he does out of the office. Indigenous tribes are a strong interest, and in places as far afield as India, Romania, Ethiopia and Vanuatu, he has lived with and documented the lives of people living close to the land.
"The unique cultures of the world are vanishing at a rapid rate, and with that goes the different perceptions of the world. Although our paths can cross physically, we are living in completely separate realities," he tells Emirates Business.
On display in Dubai is a selection of images from his award-winning series Abyssinia, shot in Ethiopia's remote Omo Valley, one of the world's most diverse regions, with each bordering tribe speaking its own language and practicing its own customs. His are portraits of the various warring tribes that occupy the valley.
And while advertising photography work can take ages to create, his tribes require even more effort and results can be extremely slow in arriving.
"I cannot gain trust from my subjects instantly, it takes time. The photoshoot can be quick, but the time spent to get to that level of mutual agreement can take days or weeks. My photographs are a collaboration between a subject and the photographer," he says.
Keep up with the latest business news from the region with the Emirates Business 24|7 daily newsletter. To subscribe to the newsletter, please click here.
Follow Emirates 24|7 on Google News.