Flo Rida making his way to Dubai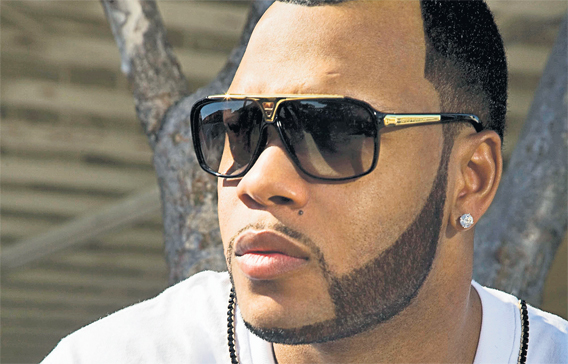 Flo Rida is nearly here. At the time of going to print, the US rapper – who will be performing his very first show in the Middle East tomorrow night – posted this on his official Twitter page: "Just had green tea, about to hit da gym in Germany. Off to Dubai in an hour."
The 30 year-old Grammy-nominated artist, known for club bangers such as Low, Right Round and Sugar, will appear at The Palladium in Dubai Knowledge Village from 9pm – and tickets are going fast.
According to organisers, fans can expect plenty of hits from the star's two albums: Mail on Sunday and R.O.O.T.S. Plus, he could play a few tracks from the new album The Only 1, including new single Fresh I S.
Prior to Flo Rida's performance tomorrow night, the hit-maker is set to make a special appearance at a signing session at Virgin Megastore, Mall of the Emirates, tomorrow evening at 7pm.
Emirates Business put a few questions to Flo Rida through e-mail ahead of his arrival in the emirate.
This will be your first gig in the Middle East – are you looking forward to it?
I am very excited to perform for the first time in the UAE, it will be amazing. I'm delighted to be visiting Dubai and am definitely excited to meet my Middle Eastern fans.
What are your impressions of Dubai – what are you expecting, and is there anything you are looking to do whilst here?
I am waiting to be surprised, but I have heard a lot of great things from friends who've visited Dubai before.
What can fans expect from your show?
Definitely lots of energy – I am always getting the fans involved. I like doing things on the spur of the moment; I totally love my fans!
Did you think that your music would reach so far? You're huge in places such as the UAE, Egypt and Lebanon....
I hope it will increase even more after my concert in Dubai, and the launch of my third album.
You've worked with artists including Nelly Furtado, Ke$ha and Lady Gaga. Who have you enjoyed working with the most?
Each artist is unique so you get a different vibe and experience. But if I had to choose one, I would say that Lady Gaga was definitely impressive.
Will you be bringing any guest performers to your Dubai show?
The opening acts for this show will include Virgin Radio's Ali Mack as well as Amsterdam's superstar DJ Irwan. The event itself will be hosted by Virgin Radio's Kris Fade and Chad.
Who would you absolutely love to work with that you haven't managed to yet?
I would love to work with Beyoncé, Outkast, Ludacris and Eminem.
And who would you never share a stage with?
To be honest, I wouldn't want to close that window.
What's next for you?
A tour in Europe is planned after Dubai.
- Flo Rida Live in Dubai. This Thursday, March 4, at the Palladium, Dubai Knowledge Village. Doors open at 7pm, and the show starts at 9pm. Tickets cost Dh250, Dh350 or Dh550. Call: 04 210 8567
Keep up with the latest business news from the region with the Emirates Business 24|7 daily newsletter. To subscribe to the newsletter, please click here.
Follow Emirates 24|7 on Google News.