High-end yachts sail in for capital's show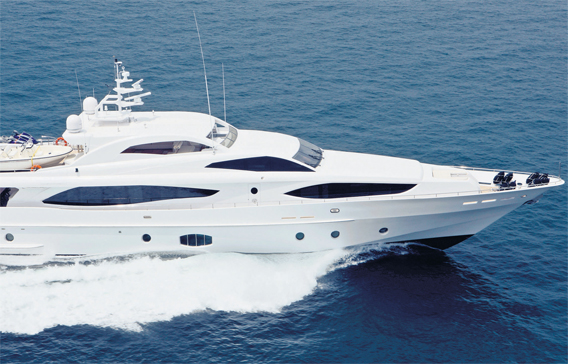 Though it's a buyers' market right now, people purchasing superyachts are not swayed by huge discounts and prefer to buy from reputed companies so that their investment is safe, say industry experts.
Talking to Emirates Business on the eve of the second Abu Dhabi Yacht Show, (ADYS) which focuses on superyachts and megayachts, one of the exhibitors Erwin Bamps, Chief Operating Officer, Gulf Craft, said: "The ADYS is a niche event that caters to the very high-end market. The people who come to buy yachts are those who can afford to spend millions on a superyacht without batting an eye.
"So unlike the other boat shows where smaller yachts and boats are bought and sold, most of the superyachts that you will see at the show are ones that have been made to order for our clients and have been brought to the venue just to show prospective clients what we can do. Once they see and approve of what we can achieve then they place orders with us."
The show, which did more than Dh365 million of business last March, is showcasing 30 superyachts of more than 25 metres. It begins on February 25 at the Yas Marina in Abu Dhabi and will go on until February 27.
Franck Dailles, Group Director of Informa Yacht Group, organisers of the event, said: "Thirty superyachts are here for the show, and registered exhibitors number 140, which exceeds last year's figures. This is testament to how ADYS has become an important platform for industry players to gather, network and do business. We have put together a comprehensive programme, special events and activities where guests and exhibitors can discuss opportunities as well as issues and challenges that will help boost the region's aspirations, in particular Abu Dhabi's, to become a leading global yachting hub."
Talking about the current market for yachts, Bamps said: "The fact remains that it is a buyers' market right now. There was time when people in the Gulf as well as other parts of the world had pots of money to spend without giving it another thought, but ever since the downturn the market has changed. A lot of people don't have that kind of money to spend and those who do are also cautious about their spending. This is the reason why it is a buyers' market right now as desperate companies are giving people unbelievable offers.
"But the fact remains that people who come to this superyacht show are the kinds who do not fall for deals and discounts as they prefer to buy their yachts from a reputed company that has a solid foundation and background, is financially sound and offers excellent aftersales service."
According to Bamps, the reason for this is that superyachts are an investment, just like a work of art whose value increases with time depending on who the painter is. They are like limited edition Rolls Royces, Ferraris and limited edition Bugattis. Their value grows with time and does not depreciate, like it does for ordinary cars.
"As most of them are bespoke, they are all unique. So the value of things that are one of a kind and unique does not erode, it goes up with time. In fact, like limited edition luxury cars, the older they get the more their value rises. Who owns the superyacht also matters in the market and if a yacht owned by royalty, or actor or sportsperson goes up for re-sale, its value rises even more. So when a person is placing an order for the yacht of his dreams, then the reputation, financial health, expertise and experience of the company he is buying the yacht from matters a lot. This is because he wants the company to be around not only to look after his superyacht but because its resale value will also get affected if the firm shuts down or its ownership changes," he said.
The line-up at the show includes several new builds that will make their debut in the Middle East at the ADYS. These include the 65-metre Trident, the sleek 62-metre Roma, 73-metre Silver Zwei, 48-metre Australis and 41-metre Blink.
Other spectacular ocean beauties will include the luxurious 60-metre Linda Lou, 67-metre Allure Shadow, 48-metre Ellix Too, 43- metre Le Yana and 39-metre Red Sapphire, arresting in both exterior dimensions and interior extravagance, along with lavish megayachts such as the 90-metre Lauren L, 85-metre Alysia and 104-metre Loaloat, whose dramatic scale promise to impress.
The superyacht flotilla will also includes a Westport 112, four Majesty yachts, two Benetti yachts, five Azimut yachts as well as two Sunseekers and the Al Mohammady. Other highlights include the unveiling of the ES 117, a Weyves Couture by international fashion designer Elie Saab megayacht, the Devonport OneSixty concept launched with Belgium's Emocean Yacht Design and the super-green, superyacht Soliloquy by the UK's Callender Designs.
Dailles said: "This is a line-up that is tracking new superyacht trends, which includes significant progress in environmental operations."
Faisal Al Sheikh, Events Manager, Abu Dhabi Tourism Authority, said: "The show is an unrivalled forum for Abu Dhabi to present its expanding marine leisure and superyacht credentials to industry leaders, who we hope will partner our development, and an audience of regional high-net-worth individuals."
Opportunities and challenges
Running alongside ADYS will be the Gulf Superyacht Forum, from February 24 until 25, at The Yas Hotel. Delegates will explore the opportunities and challenges surrounding the Gulf's superyacht industry potential that this developing market offers. In addition, the programme will explore the cruising and operational issues, coupled with the rules and regulations unique to the Gulf. Over the two days, all delegates will have an unrivalled insight into the way the Gulf works. The ADYS will run daily from 2pm to 10pm.
Keep up with the latest business news from the region with the Emirates Business 24|7 daily newsletter. To subscribe to the newsletter, please click here.
Follow Emirates 24|7 on Google News.