'Photographers exist in a continuous state of flux'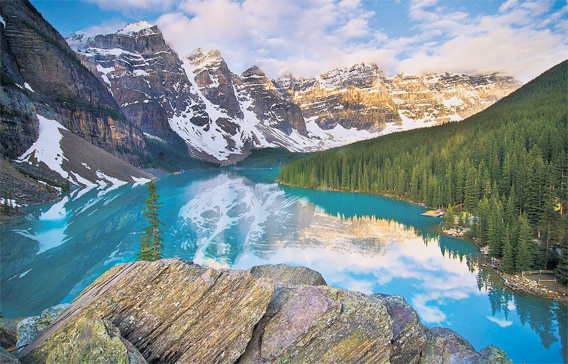 Getting photographers to talk about their work is never an easy job.
After all, they say, they've taken the picture, that should explain everything.
And despite claims by camera manufacturers, there's a lot more to the perfect photo than merely pointing and shooting – or even, the quality of light. At next week's Gulf Photo Plus, some of the world's top lensmen (and women) will hold forth on the place of location, timing, talent and Photoshop in modern photography
Ahead of the show, Emirates Business asked five happy snappers to share one of their best pictures with us.
For those who want hands-on lessons in taking better pictures, Gulf Photo Plus offers more than 50 workshops from?March 1 to 6.
More information is available at gulfphotoplus.com.
ROBIN NICHOLS
Why is this one of your best images?
I can't say this is my best image. No photographer has one, because photographers, like all artists, exist in a state of flux where ideas, experiences and environment all play a shifting part in how an image comes into existence. I chose this picture because it's a good representation from a project I undertook recently featuring more than images shot at Cockatoo Island in Sydney.
What is the subject of the photograph?
An old tool shop in a now disused shipbuilding yard at Cockatoo Island in the middle of Sydney Harbour.
Why did you take it?
I was struck by the visual contrasts: the drabness of this empty room and the bold block of colour in the shape of the tool cupboard. The scene holds a lot of potential.
How long did it take to set up and plan?
It took me five minutes to set the up tripod and shoot seven frames. These were subsequently post-processed into a raw HDR image using Photomatix Pro. This file was then sandwiched with two other texture files shot at the same location, and blended in Photoshop, adding shadows, linear distortion and text to give the final effect.
Why do you think this image works?
The combination of strong colour and heavily textured decay is particularly appropriate to illustrate the nature of the place.
Is there anything you want to change about this picture?
In hindsight, there's always something I could do to one of my composites that could make it stronger, more colourful, or more relevant. But that's the beauty, and curse, of hindsight isn't it? Once printed, you have to live by your decision. Next month I might want to change it. As a photographer, images exist in a continuous state of flux…
Technical details?
Canon EOS 40D for the seven main image and the single background textured components, f16 @ 5s, 2.5s, 1s, 0.5s, 0.25, 1/8s and 1/15s, ISO100, tripod.
What does the image say about you?
I'm not much of a believer in the 'one exposure does it all…' school of photography. I prefer to combine multiple elements into one' master' file that then creates a specific 'look' in the image. It also suggests that 'the shot' is not always everything. In my work, the post-production process is as important, if not more important to the final result as any pre-shoot planning.
ZACK ARIAS
What is this picture about and why is it one of your best?
In some ways I do not think this is one of my best images but it is definitely one of my favourites. Most of the time I go on a shoot without a set idea as to what I will shoot for the day.
I may have a loose idea but I just sort of go where circumstances take me. For this job I had 48 hours to shoot a series of images inspired by the life of Los Angeles musician, Emily Wells. I was asked to photograph a story around one of her songs. On speaking with Emily, I found out that the song was quite autobiographical.Emily moved to Los Angeles from a small midwestern town to pursue her music career. She was a girl lost in a big city but she was doing quite well in finding her way and her music is phenomenal.
For this shoot I knew that we were going to have rain to deal with. I spoke with the model, Christina Sedor, and asked if she was okay with working in the rain. We have worked together a number of times and she said she'd do whatever I asked of her.
For this shoot I had a specific idea of what I wanted but this photo surpassed my expectations thanks, in part, to a massive storm that blew through downtown Atlanta that day. We were expecting rain. We weren't expecting it to come in sideways at 60 miles per hour.
My cameras have weather sealing which means they can get a little wet. They have been rained on many times but this was monsoon level rain and wind and my camera took a beating. In fact, the shot cost me $400 (Dh1,469) in repairs to my equipment. We could have taken shelter but I wanted the shot, I had to have it. I didn't care if it destroyed my camera as long as I could get the shot. Luckily it didn't!
$400 in repairs is a lot better than replacing a $5,000 camera. When the wind and rain hit I asked Christina if she was okay going out in it. She said she trusted me. If I was willing to put myself and my gear into the storm, she was fine standing in the middle of it with me. It's that kind of thing that builds trust with subjects. If they see you putting something on the line for a photo, they will usually go there with you.
Why does it work?
Christina's resolve in this photo, the light, the rain, the colour of her dress... it all comes together for me.
How long did it take to set up and plan?
I had one day to plan this job and two days to shoot, edit and deliver the images.
Is there anything you want to change?
I would have loved to have used some off-camera flash to fill in some light on her face but my flashes aren't weather resistant by any stretch of the imagination.
Technical details?
It's shot with a Nikon D3. Correct exposure information was not recorded since water seeped into the camera body at the time and took out a circuit board. It still shot pictures though. Nikons are tough machines.
What does the image say about you?
I hope it says that I'm willing to take risks.
DAVID NIGHTINGALE
What is this picture of?
Tyre tracks in the dunes an hour's drive from Dubai.
Why is this one of your best images?
Because it was one of those shots that I almost didn't take: for two reasons. The first was that the light was dull and flat, but I knew this could be fixed during post-production. The second, and more problematic, was that this scene wasn't what I expected.
Prior to this trip I'd only been to the desert once, and on that occasion we travelled no more than a few hundred yards from the road. On this trip our intention was to head quite a bit deeper, away from any obvious traffic, towards the bigger dunes. But when we got there, most of the major dunes were criss-crossed with tyre tracks, there were numerous four-wheel drive vehicles dotted along the horizon, and the rumble of quad-bikes could be heard in the distance. The fact that the desert looked more like a major highway than a scene of outstanding and untouched natural beauty stopped me in my tracks.
The only solution was to abandon my expectations and make the most of what was in front of me. As such, I got low to the ground and composed my shot to use the tracks as both the key component and as leading lines towards the large dune on the horizon.
Why do you think this image works?
The location is certainly a major factor, but it works because it captures both the natural beauty of the scene and the human impact of the vehicles traversing it.
Do you want to change anything about it?
No. Maybe a more dramatic sky would have been preferable, but I'm happy with how it turned out.
Technical Details?
Canon 5D Mark II, with a 24-70mm f/2.8L lens using an aperture of f/16 and a shutter speed of 1/40s.
MATT KLOSKOWSKI
What is this a photograph off?
Landscape: it's a picture of Lake Moraine at Banff National Park in Canada
Why do you think it's one of your best?
It's the culmination of everything I know about photography and Photoshop. It has got all the great makings of a landscape photograph. Of course, there's always small distractions left over in the image, so I was able to remove those in Photoshop later to make it the photo that I really saw when I was there.
Why did you take it?
I love reflections. I love that nice golden sunrise light. And I love beautiful skies. This had all three.
How long did it take to set up and plan?
Not long. It was cold and windy (it was snowing just 20 minutes earlier). I set up my tripod in under a minute and had the picture not too long after. I experimented for a few minutes with different views (both vertical and horizontal) but this was my favourite.
Why do you think the image works?
Great light, great location, great timing and a little luck to be there at the right time when the weather broke and the sun started shining through for a few minutes.
Is there anything you want to change about it?
I already did – the reflection was disturbed in certain areas of the water. I was so taken back by this beautiful place that I never even noticed it when I was shooting. So I used Photoshop to fix those areas.
Technical details?
Nikon D200 with battery grip, Nikon 17-55mm f/2.8 lens, Aperture: f/16, Shutter Speed: 1/60.
MELISSA RODWELL
What is the subject of the photograph?
Eugenia Kuzmina, a Russian supermodel, was my model on this job for a Los Angeles boutique called Church. She wears a dress sold at the store.
Why is this one of your best images?
It has a lot of elements going for it, which for me, make for a strong fashion photograph. It has movement, emotion, it shows off the garment (which is key in fashion photography) and it has that "precise moment" of capturing a model in movement.
How long did it take to set up and plan?
Originally we planned to shoot this job outdoors against a blue sky on a rooftop but it was raining on the day of the shoot so we shot in a studio. I brought my smoke machine indoors and created the look we wanted in the studio instead. The concept was decided a few weeks before the shoot. Casting was completed a month before; hair, make up and stylist booked a week before. Actual lighting set up took about half an hour.
Technical details?
Nikon D2x, using Profoto lighting equipment. I used two Profoto heads, one had a Chimera softbox on it, the other a Profoto beauty dish on it. Shutter speed 1/250s; aperture f5.0. I used my 85mm lens and my camera was set at ISO 100. It was shot digitally and very little post was applied later.
Keep up with the latest business news from the region with the Emirates Business 24|7 daily newsletter. To subscribe to the newsletter, please click here.
Follow Emirates 24|7 on Google News.