Pictures of life, shot in the slow Lane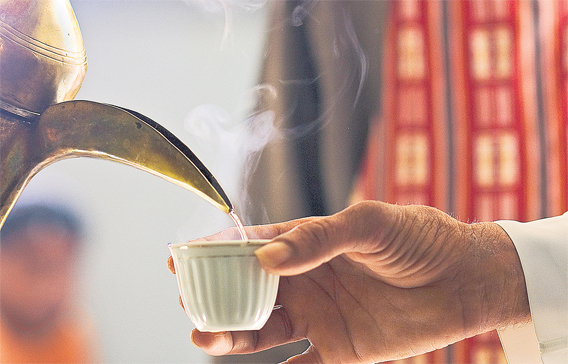 Photographers must face several obstacles in getting the right picture, but shooting in an abaya isn't one that springs to mind immediately.
For the American portraitist and travel specialist Bobbi Lane though, adapting to the flowing outer garment that women in the Arab World wear was a fair challenge – particularly as she's someone accustomed to working in comfy jeans.
"I had a few tears in my abaya by the end of the two weeks," she says. "Wearing the abaya was a bit difficult because often I'm squatting to shoot at a low angle and when I would stand up I would step on the hem, which would either pop the snaps or make me lose my balance," she says.
It was spring 2008. Lane was on location in Saudi Arabia, making a documentary film for oil major Aramco's 75th anniversary. "Aramco wanted a photographer to shoot both with the film crew and also capture the beauty of the land and its people.
"I knew the director from my many years of living and working in Los Angeles and when Aramco said they wanted a photographer who could shoot both the corporate aspects and the travel and landscape, he knew I was the right person for the job," she says.
The 56-year-old Connecticut resident is in Dubai this week and will lead workshops on lighting and portraits at the annual Gulf Photo Plus event. A commercial photographer specialising in creative portraits in studio and on location, she primarily shoots people for editorial, corporate and advertising clients as well as photographing "real people" and travel for stock. And when her work isn't being snapped up by the likes of GE, Warner Bros, PricewaterhouseCoopers and Mattel, she is a dedicated photo educator, bringing insight and enthusiasm to fun-filled workshops.
"Photography is my profession, but teaching is my passion. My classes are always intense and filled with information, but I've found that people learn more when they have fun," she says.
Lane is a Contributing Editor for Photo Techniques magazine, and author of the book, Creative Techniques for Color Photography. She has also co-authored with photographer Lou Lesko, Advertising Photography; A Straightforward Guide to a Complex Industry. She has also created two instructional lighting DVDs, Portrait Lighting Techniques and Portraits Unplugged, which can be bought online.
This is her fifth trip to Dubai and she'd been counting down the days until she got here.
"I so look forward to every visit," she trills. "I find the city very beautiful and vital. The architecture is stunning and I'm always interested to see the changes between visits in the skyline. I'm excited to go up in the Burj Khalifa, which I've been photographing in its various stages since 2007. I love going to the souks and meeting all the people. There is so much to do and see, and I always wish I had more time!"
But despite being a photographer for more than 30 years, and having travelled to India and the US Virgin Islands, she says Saudi Arabia stands out for its beauty and tradition, its friendly, open and generous people and its spectacular desertscapes. "It's a very different experience from Dubai, for example, which is very cosmopolitan and international while Saudi Arabia is very traditional and unspoiled.
"I found the people of the kingdom kind, generous and hospitable. Everywhere I went I was offered tea, coffee, food and conversation. The food was incredible and the Saudi people want to make sure you are well fed!
"The call to prayer was always inspiring and made me pause and take a moment for my own meditation. The sounds of the prayers are lovely and added to the depth of the experience. I am sure I was a curiosity, being a woman with red curly hair and a camera, but I was always treated politely and with respect and courtesy. The country is beautiful and I had the opportunity to travel from Dhahran to Jeddah, to fishing villages and to the Empty Quarter, which was spectacular!"
The results, some of which are reproduced on this page, are quite simply, spectacular. These images are a fresh, contemporary look at Arabia that are both a far cry from and clearly linked to iconic work such as Wilfred Thesiger's.
Even for those of us living in a desert nation such as the UAE, Lane's rolling, barren sand dunes are a haunting, jarring reminder of the stunning natural beauty we take so much for granted. Her people are vibrant, colourful characters, with the lines of the desert etched across their faces and the truth of their lives resolutely hidden from the viewer – a far cry from the Facebook generation which lays its soul's mysteries up for public dissection. It helped, too, that she was a Western woman taking pictures in a country that, until the year before, wasn't exactly open to outside photographers.
"At the time, travel visas and photography had only been allowed for a year. Technically I wasn't on a travel visa since I was working for Aramco, but photography was a new experience for a lot of the people that I came across," she says.
"I have done a lot of travelling and have encountered some difficult situations being a woman, but I never had a problem in Saudi Arabia. I was in India in the mid-80s for an extensive six-week project and did run into some scary moments. I am used to being an independent woman in the States and in Western countries, going wherever and whenever I wanted. So I was cautious in Saudi Arabia."
Once she understood the mores and customs, she adds, there were no problems – except that she would often become nervous when separated from her team in places where the sexes are segregated. "Bachelor" and "family" restaurants posed a problem too.
In Saudi Arabia, women must travel with a male companion at all times, and Lane always had either an Aramco representative or a male crew member with her.
"But in one town, Qatif, a great fishing village, we were all walking around looking at markets and locations. Since we were all used to going off to scout on our own, a couple of times I realised that I was alone and I would hurry back to the crew. They also were not used to having to look out for me, and we all sort of forgot," she says.
"Otherwise, it was no problem. The people in the market places and the fishing villages were delighted to have me photograph them and even though I only speak English, we seemed to communicate well enough to get people to laugh!"
Contrary to perceptiions of official restrictions on her subjects, Lane says the only creative restriction she faced was not being allowed to photograph women. "In the market places in Jeddah, there were some women selling goods on the street, and I was told that I could ask, but they refused. I would have loved to photograph the women with such great beauty and the children, too."
Bobbi Lane at Gulf Photo Plus
Bobbi Lane became a photographer to make the most of an abiding interest in the arts. "I would have been a rock and roll singer and keyboardist if I was good enough, but I was smart enough to know I didn't have the talent," she says.
"I was always interested in the arts: music, writing, theatre and visual arts. I'm a naturally curious person and every photography shoot is different and an opportunity to learn something new. It's a way to explore and experience the world and its people, and then bring it back and show it to other people. I'm never bored!"
Thirty years on, having taken pictures day in and day out, she says that continues to be the attraction. "It's always a discovery, something new and there are endless possibilities for creating something that has meaning or beauty. It's not a job, it's a way of life. It's really about the experience."
She's mining that experience for Gulf Photo Plus, with workshops aimed at the confident beginner. Learning How to Use Your Flash runs today, from 11am to 7.30pm. "Portable flash is very tricky to learn, but this workshop unravels the mysteries of the equipment and all the modes, how to use it as a main light and as a fill flash, and how to modify the quality," she says. A repeat runs tomorrow at the same times.
On Saturday, she runs Portraits Unplugged. From 9am to 5.30pm, it looks at working with available light for portraits, learning to "see" the light and modifying it with reflectors and diffusers, she says.
"This workshop is great for those who want to create effective and natural portraits."
Workshops begin from $250.
Keep up with the latest business news from the region with the Emirates Business 24|7 daily newsletter. To subscribe to the newsletter, please click here.
Follow Emirates 24|7 on Google News.