Shared space and creative 'unorganisation'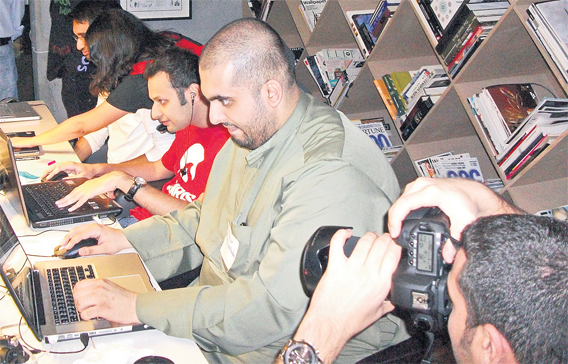 Shared spaces occur when a community can spontaneously appear and, in a wink, dissipate. But not without making new connections, starting new conversations and sharing new ideas. Most ideas amount to nought, but some change the world. Shared spaces are not merely physical but amalgams of concepts of community given the opportunity to precipitate into existence.
Geekfest Pi was just such a concept. Physically, it was located in The Shelter for three brief hours on a balmy Thursday night. But more than a venue, Geekfest Pi was an idea – that random eclecticisms of people could meander in, generate a richness of connectivity and then disappear without being very aware of having done anything much at all.
Dubai's first Geekfest was the brainchild of a certain Alexander of the clan McNabb who is so convinced of the power of social media that he would substitute Twitter for the morning shower if he could. Since the first foray, Geekfest has precipitated into a euphemism for gratuitous yet highly welcome inclusive gatherings. Geekfest is eponymous with the geeks it chooses to represent – an irony only because Geekfest Pi had the business-minded fashion-forward outnumbering the true nerds.
With no advertisements, no registration and certainly no admission fee, Geekfest Pi was a farrago facilitating a fraternity.
Pi is the hallowed ratio that the Greeks used to literally square the circle. At Geekfest Pi, this ratio was interpreted in a less reverent way through the dissemination of free pies. The lamb ones were spectacular, but I have it on good authority that the chicken were no laggards.
Pi was a Geekfest iteration with at least some rudimentary organisation, in the sense that there were some scheduled talks by Dubai's social media, business and student community. Much like the event, these talks were fun, informative and refused to take themselves seriously. From business planning, Islamic diapers that appear and magically disappear via the magic of presentation software, to a feminist website and a startup idea for a student radio channel, the topics ran the gamut between practical and thought provoking without ever once descending into the stilted stasis of corporate-speak.
There was a technology showcase of sorts from Buffalo, which in an enterprising move had loaned their networking equipment to a bunch of gamers eviserating one another in Unreal Tournament's virtual arenas around a long table. Despite tongue in cheek signs warning they were not to be fed, the gamers were tucking in with gusto. Free nutriments in a nook and happy congregation in a cranny were the very essence of the Gamesfest that had appended itself to Geekfest Pi at the last minute.
But what, apart from gratuitous snacking on free pies did Geekfest Pi or 3.14 accomplish? Absolutely nothing. Except bring together people who otherwise wouldn't have met. And start conversations that would otherwise never have catalysed. Create ideas. And give those present a chance to share invaluable egalitarian space where outspoken students were cracking jokes with entrepreneurs, media people were mingling without agenda with whoever they could find, white collars were sharing experience without hesitation and social media addicts were converting others to their cause. While gamers were happily disintegrating each other's virtual selves using Buffalo tech. I can't wait for the next one.
- The writer is a Dubai-based lecturer, sociologist and marketing manager. He holds an MSc from the London School of Economics
Keep up with the latest business news from the region with the Emirates Business 24|7 daily newsletter. To subscribe to the newsletter, please click here.
Follow Emirates 24|7 on Google News.