When Love (for your music career) Takes Over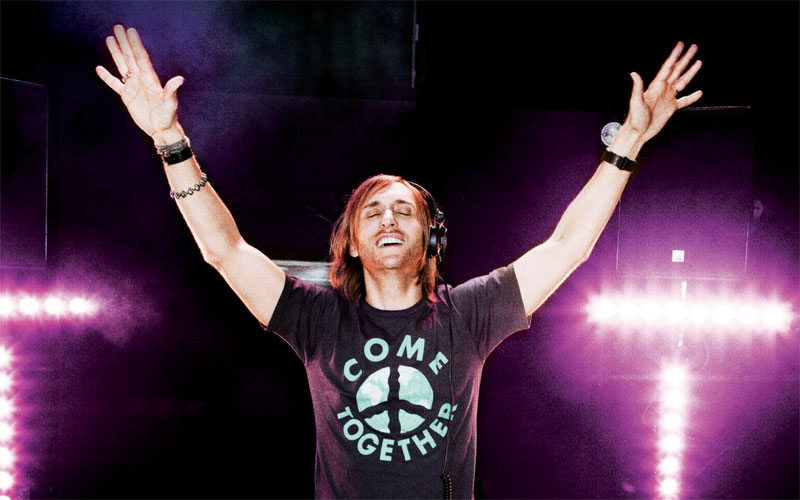 What a world of difference a year can make.
The last time David Guetta was in the region, he was the French DJ and producer well known in the dance music scene, and appreciated by loyal house/electronica fans. He'd even had a few radio hits with tracks such as Love Don't Let Me Go, The World Is Mine, and Love Is Gone.
Upon his return to the emirate this year – Guetta appears at the Dubai World Trade Centre this Friday night – the 42-year-old is a global superstar… and it's all thanks to his album, One Love, which dropped last August.
The record – which, according to label EMI, has sold 1.4 million copies worldwide so far – features collaborations with the crème de la crème of artists, including Black Eyed Peas, Akon, Kelly Rowland and Kid Cudi. One Love received four nominations at the 52nd Grammy Awards, with Guetta winning the Best Remixed Recording category.
It even charted well in the US, showing that European dance had a chance of entering the American music market. Right now, the world truly is Guetta's.
The secret to the producer's huge success perhaps lies with the fact that he has collaborated with a plethora of international musicians, a feat that hasn't been achieved by any other world class DJ – and many more are knocking on his door, just waiting to work with him.
At the time of the release, Guetta talked about his journey making One Love at an international media conference.
He said: "It started with Kelly Rowland, who came to see me when I was playing the South of France… She loves Love is Gone. She was dancing all night long, and heard the When Love Takes Over instrumental and she really fell in love with it.
"She came with that beautiful song and we just felt that was really big, and we went into the studio together. Then she started, you know, to speak about me and spread the word.
"During the same week, [Black Eyed Peas' frontman] Will.I.Am called me and asked me for the tracks for Black Eyed Peas' album: now known as Rock That Body and I Gotta Feelin'. And I said: 'Listen, I'll do it for you guys but you've got to return the favour and be on my album'.
"And that's the case with the rest of the artists – every time they asked me to do tracks for their album, I asked them to feature on my album in return."
One of the biggest tracks off the One Love album is of course, Sexy Chick featuring Akon, another star that is no stranger to the Middle East. Enter any nightspot in Dubai and chances are you'll hear the song once, or even twice. So big is the song that it reached the top spot on 13 different music charts, including the US Billboard, and the song even appears in Playstation 3 video game DJ Hero.
Speaking of his collaboration with the Senegalese-American hip-hop singer, Guetta said: "We met for the first time three years ago at the World Music Awards, and then we met again in London for a Radio One festival where he was due onstage just after me. After he saw me, he was like: 'Wow, I love Love is Gone and When Love Takes Over… it's so good, we should try and do something together, let's have a drink when I finish'.
"I was like: 'Let's not have a drink – let's rent a studio and make music'. And we just did it… We rented a studio at the last minute, we didn't sleep, and we made a totally new track."
Guetta's next single is released next week; a re-worked version of the album's Gettin' Over You, featuring Chris Willis, Fergie from the Black Eyed Peas and LMFAO.
In a recent interview with MTV news, LMFAO's Redfoo said that the playful track came together after a Black Eyed Peas show in New York.
"We met backstage after a show and [Guetta] gave us the track and was like, 'I want you all to do something with this'.
"We took it back to the hotel, recorded our vocals with a couple of female spectators, we sent it off to him, and he did his magic to it."
The rest of the year looks just as busy for the Frenchman. As well as live shows across the world, Guetta is also looking at collaborating with more artists, including rumoured songs with Lady Gaga and Rihanna.
Additionally, he is a familyman, having been married for several years and is father to two children: Tim Elvis, six, and three-year-old Angie.
Just goes to show you can have the best of both worlds.
- David Guetta Live: Dubai World Trade Centre. Dh200. Call: 050 110 0678
Follow Emirates 24|7 on Google News.