A plane you can drive to work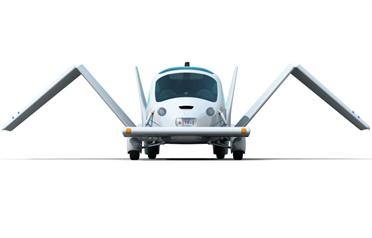 The company, Terrafugia, located in Woburn, Massachusetts, was founded by MIT-trained aeronautical engineers and MBAs with a mission to provide innovative solutions to the challenges facing personal aviation. The result was the roadable aircraft called Transition.
Anna Mracek Dietrich, co-founder and Chief Operating Officer, Terrafugia Inc, told
Emirates Business
: "Terrafugia was incorporated in 2006 for the purpose of developing the Transition.
"The approach taken by Terrafugia is to design a vehicle for pilots that brings additional ground capability to an airplane instead of attempting to make a car fly. I wouldn't say that we're done either as the first Transition will be ready for delivery only in 2010."
The Transition's unique design allows it to fold its wings and drive on any road surface.
Both folding and extending the wings is done from inside the cockpit. This is how it is done. Before flying, the pilot extends the wings and performs a standard preflight. The engine power is directed to the propeller for flight through a carbon fibre drive shaft.
After landing, the pilot activates the electro-mechanical wing folding mechanism from inside the cockpit. The wings fold, once at the root and once at the mid-span, and are stowed vertically on the sides of the vehicle in less than 30 seconds. Simultaneously, the engine power is directed to the front wheels with a continuously variable transmission.
The Transition is powered by a certified aircraft engine that runs on unleaded automotive petrol and is perfect for trips between 161 and and 805 kilometres.
It can take off or land at any public use general aviation airport with at least 762 metres of runway.
Talking about buying the $194,000 (Dh712,660) Transition makes for good economic and business sense for flying enthusiasts, Dietrich said: "All of us at Terrafugia are pilots. And as pilots we know that there are four main obstacles that private pilots typically face: weather, hangar cost, lack of mobility at destination, and higher than expected total door-to-door travel time. The Transition addresses all four of these obstacles.
"The Transition has lower operating costs than other small planes thanks to its ability to be kept at home in your garage (no hangar rental fees) and the use of automotive fuel, which is cheaper than aviation fuel. It's unique functionality also enables the owner to cover more ground in a day, for instance by seeing more clients, than is currently possible with other options that have comparable costs."
Having ground mobility and the ability to fly integrated into the same vehicle provides new options for travel that are not available with two separate vehicles.
If bad weather is encountered en route, the pilot can land and drive without worrying about ground transportation or having to return to pick up their plane. At the destination airport the pilot can fold the wings and drive off the airfield without having to move bags or arrange for additional transportation. Driving and flying can be combined between multiple airports as it is not necessary to take off and land at the same field.
Dietrich, who was one of 10 people to win the 'Women to Watch' award set up by
Mass High Tech: The Journal of New England Technology
, said: "The roadability also allows the pilot to avoid being stuck at an airport due to bad weather. They can just land and drive. This eliminates much of the uncertainty currently associated with private general aviation for both business and pleasure."
Talking about the financial aspect of the project, Dietrich said: "Financing is a key challenge to be met for every start-up, but Terrafugia is fortunate to have a devoted network of private investors.
"We plan to sell the Transition for $194,000 and thankfully, due to the Transition's development schedule, no adjustments to the purchase price have been necessary due to the economic slowdown. In fact, despite everything there has been remarkable interest in Transition and it continues to be strong.
"We are scaling production to levels comparable to other general aviation manufacturers. This is not mass production as you would think of in the automotive market, but rather on the order of 100 to 500 units annually."
Even though the Transition is a roadable aircraft, Dietrich and her team are not averse to showcasing it at motor shows. She said: "While we have gotten a number of invitations from car shows, and would consider attending in the future, the testing and other demands on the Transition do not currently allow us to attend international or non-aviation events."
Performance

Cruise: 185km/h
Range: 400nm (740km)
Takeoff: Over 15.5-metre obstacle
Fuel burn: 19 litres/h
Fuel tank: 76 litres
Useful Load: 195kg
On road: 13 km/litre, 105km/h
Dimensions

When folded the plane is 2.1m tall, 2.01m wide and 5.76m long. When unfolded it is 1.92m tall, 5.85m long with a wingspan of 8.41m
Convenience

  - Front wheel drive on the ground
  - Automotive-style entry and exit
  - Place for two side by side
  - Automated electro-mechanical folding wing
  - No trailer or hangar needed
  - Cargo area holds skis, fishing poles or golf clubs
  - Drive in case of inclement weather
  - Proven 100 hp Rotax 912S engine
  - Full vehicle parachute available
  - Modern glass avionics
  - Automotive crash safety features
Follow Emirates 24|7 on Google News.
In these days of frugality, a company in the US has come out with a roadable aircraft, which provides pilots the convenience of a dual-purpose vehicle.