An upgrade worth your while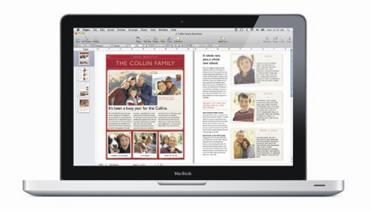 In a world of oppositions, there are people who are Microsoft and there are people who are Apple. Generally, the former are seen as work-obsessed, fashion backward, dullards while the latter are funky, creative types.

Like all stereotypes, the perception is far from the reality. But, it is Apple which has done more to bridge the gap with its suite of lifestyle applications, iLife, and its complementary suite of productivity programmes called iWork.

Both have just undergone substantial upgrades – but are they enough to shell out more dirhams?

iLife includes iPhoto, iMovie, iDVD, Garageband, and iWeb, all effortlessly usable for organising, viewing and publishing digital content such as pictures, movies, music and web pages.

Of all the applications, iPhoto is probably the most popular and this new version includes two extra features, Faces and Places.

These help people organise images using facial recognition technology. Also any photo that has been geotagged will show up on a map in Places.

There are also improvements to the photo-editing technology, all of which are indispensable for everything from sharpening the image to getting rid of annoying red-eye.

Further additions include a social network compatibility, which means at the click of a button, images can be posted to Facebook or Flikr.

In iMovie, the big, new thing is the image stabilisation feature – which works. Another useful addition is Themes, which adds to home movie creation, but there are only five of them.

GarageBand has grown up a bit too. Rather than just being an audio and podcast recording and editing tool, users can now get video lessons on how to play instruments. Included are lessons on the guitar and piano, and you can download more advanced lessons, some free and some at a price, from the Lesson Store.

iDVD has been ignored in the upgrade – it doesn't even feature on the packaging – which probably means it's on its way out.

iWork 09 is an excellent investment for Mac users who need a well-designed and easy-to-use productivity suite. Its core group of apps – Keynote, Numbers, and Pages – all work seamlessly together. Like previous version, iWork files are compatible with Microsoft Office.

iWork also introduces iWork.com, a free, beta web service. This sharing site lets you share documents online, invite viewers to make comments, and allows for downloads in iWork, Microsoft Office and PDF formats.

Past versions of Keynote – think Powerpoint but better – have always been popular and new features only make it better. Easy-to-use graphics tools and a variety of animation effects help you make eye-catching presentations, and a slew of transitions and intuitive animation effects add to this presentation app's appeal.

Pages offers feature-rich word-processing and layout tools alongside intuitive graphics features to make projects both easy to make and easy on the eyes. Though not as deep as Microsoft Word for formatting and layout options, Pages offers even more variety with 40 templates, including stationary sets and a variety of newsletter designs.

New features include a full-screen view to eliminate distractions while you write. Apple's use of the black background with mouse-friendly menus only when a user wants them makes it distraction-free.

Numbers, while it keeps the familiar feel of Microsoft's Excel, offers much smarter ways of dealing with data, tables and charts. While engineers and accountants may require some of Excel's more robust tools, those with small businesses or other spreadsheet-related needs will find Numbers easy to work with. New, Apple-designed templates for common spreadsheet needs are also included giving beginners easy starting points.

The function browser in Numbers gets a much-needed upgrade, now with more than 250 functions, complete with built-in help.

So, back to the original question. Well, iLife ships with new Macs anyway and an upgrade is probably best for anyone who uses more than just iPhoto – although the new features are neat.

And iWork has many excellent features, which brings it within a hair's breadth of Microsoft's popular and ubiquitous Office.
Follow Emirates 24|7 on Google News.