Crowded e-reader market may not have enough room for everyone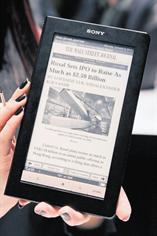 Remember the Dell DJ MP3 player? Or Sony's Clie digital assistant? It's likely dozens of electronic readers debuting at the Consumer Electronics Show may go the way of these defunct gadgets by next year.

Amazon.com's Kindle popularised digital readers and galvanised a market estimated at a few million devices annually, with everyone from Barnes & Noble to Google playing a role.

This week's gadget show in Las Vegas saw many new entrants to the fray, from giants such as Samsung Electronics to hot start-ups such as Plastic Logic, whose investors include Intel Capital and Oak Investment Partners.

The e-book section of CES was among the most crowded, as curious consumers and suited buyers crammed into booths showing plastic readers of all colours and brands such as Bookeen, Copia, Hanvon and Jetbook – hardly household names.

While some e-readers, such as Plastic Logic's Que or the Hearst Corp-backed Skiff, may well find a niche to compete against Kindle, analysts say there is simply not enough room in the nascent market for all the new entrants.

"There are a lot of great-looking devices being shown, but right now there are too many players chasing too small a market," said Michael Gartenberg, an analyst at Interpret. "High prices, lack of content and single task functionality means most will fail over time."

Kindle is widely regarded to be the market leader because Amazon not only sells the gadget, but also digital books. The company has not disclosed any shipment statistics but analysts estimate Kindle accounts for roughly two-thirds of e-reader sales.

However, the emergence of tablet computers at CES – and a hugely anticipated device from Apple in late January – provides a real threat to Amazon, and the e-reader category as a whole, analysts say.

The e-reader market is limited by high prices – the lowest price Kindle is $260 (Dh955), while Samsung's new E10 is about $700 – and the difficulty of securing publishing content partnerships, though that could start to change in the coming year.

UBS estimates that Amazon sold roughly one million e-readers in the fourth quarter, generating a revenue of $287 million out of the company's roughly $9 billion.

"No one else matters at this point," said Forrester Research analyst James McQuivey, noting newcomers won't be able to leverage the content partnerships as effectively and Amazon and Sony have.

"We're seeing a lot of devices that won't be in the market for months," he said.

McQuivey expects six million e-readers to be sold in the US in 2010, with Amazon and Sony leading the way.

Amazon's Kindle, and Sony's Reader, have largely had the market to themselves until recently.

But some industry watchers, including Gartner analyst Allen Weiner, expect the market to bifurcate over the next year into commodity devices costing less than $200, mid-range e-readers costing up to $350, and higher-end tablet computers taking the rest of the market.

Sony CEO Howard Stringer joked about the mushrooming competition at the show: "I wish they would go away," he said.

Stringer said Sony pioneered the e-reader category but admitted that Amazon "beat us to the punch" on adding wireless connectivity. He said Sony's ability to build a superior product will solidify its status as a leader.

"If we didn't think we could hold our own in that, we could all go into the life insurance business," Stringer said.

One of the newcomers, Plastic Logic, has attracted plenty of interest. The venture capital-backed company used CES to unveil its Que reader aimed at business users, which starts at a relatively pricey $649.

"We think the pricing works for the customers that we are targeting," said Plastic Logic CEO Richard Archuleta. "Essentially now they can get rid of all of the things that they print."
Keep up with the latest business news from the region with the Emirates Business 24|7 daily newsletter. To subscribe to the newsletter, please click here.
Follow Emirates 24|7 on Google News.