HTC Touch HD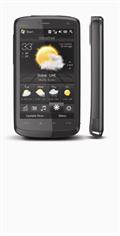 As a brand, HTC is barely two years old. But as a smartphone manufacturer, the Taiwanese company has been around for more than a decade, its products rebranded by major operators. And the latest offering for the Middle East, in the form of the Touch HD, is definitely a device to want to own. And there are plenty of reasons why.

From the moment we unboxed this touchphone beauty and held it just a bit closer, we fell in love. Smooth, sloping corners surrounding a massive 3.8inch screen, you couldn't possibly ignore this vision in black once you've laid eyes on it.

HTC says the TouchFLO 3D home screen is the heart of this device and we couldn't agree more. The graphics are impressive and the touch functions will please any stylus wary, all-touch, thumb-enabling-functions fans. Sweep through or scroll along the options and the responsive screen will have you enthralled.

Yes, we realise we might end up being a bit generous in describing the Touch HD. But if, like us, you've gone through a parade of iPhone wannabes in the last year, you'd empathise. Of course, comparisons between phones on different operating systems are unfair. But when not weighed down by the OS, the user interface, designed by HTC, is brilliant.

Other highlights include HSDPA, Wi-Fi and GPS. The 5 megapixel camera is a nice addition to have while the 3.5 mm audio jack makes it compatible with a majority of audio equipment. There's also a microSD card slot, a magnetic stylus (yes, just in case), which snaps neatly in place and a host of other standard offers.

For those who believe in shrinking devices, the size of the Touch HD might be a bit of a turn off. The same with the 147grammes weight. There's no flash with the camera, so forget shooting in low light. Also, you might struggle a bit trying to read in sunlight.

Using the internet and viewing pictures and videos is a joy though, which is why heavy multimedia users will love this Dh3,600 phone. While we immediately got addicted to the Teeter game, we also found that YouTube never looked so good, thanks to the excellent interface.

This is the closest we have come to nominate a worthy competition to the device that started it all.
Follow Emirates 24|7 on Google News.