LG KP500 Cookie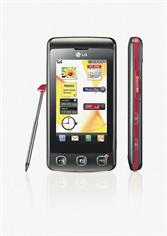 When Apple introduced the iPhone, it changed the shape of smartphones for ever, and caught mainstream mobile developers somewhat off guard. Ever since, it seems the major players – Nokia, Motorola, LG et al – have been playing a game of catch-up. And not always successfully.

For instance, could anyone truly argue that the swath of touchscreen mobiles that have come in the wake of the iPhone are truly improvement's on Apple's device, either hardware or software? I doubt it.

LG's latest attempt to lure people to touchscreen devices, the mid-range KP500 'Cookie' is a well designed gadget – stylish, small and packed with fantastic technologies to use and enjoy. And, importantly, it's more than affordable. It has a three-inch TFT screen – to be used in either the horizontal or vertical positions – displaying up to 262k colours with screen resolutions of 240 x 400 pixels providing clear, bright and colourful viewing to the user.

But the software, dare I suggest, takes much of its useability and appearance from Apple – and LG is not alone in emulating and not innovating. As a plus, Cookie comes with a good 3.2 mega-pixel camera. Users can record video footage to play back in Mpeg4 and 3GP file formats. The handset also comes with a 'video clip' feature and wallpapers and screen savers allowing the to user to add a different look to their mobile phone.

As a music player, Cookie supports MP3, WMA and AAC and has a built-in FM radio with RDS technology. It comes with 48MB built-in internal memory with the option to add a data card to increase the memory up to eight gigabytes – enough space for most users' music, pictures and video files.

Cookie supports HTML/XHTML and WAP 2.0 web browsing, providing speedy but not exceptional connections. EDGE and GPRS provide not only a speedy service but a good quality of service especially for data transfers. The phone call also be connected to compatible devices with USB and Bluetooth. Furthermore, it has a document viewer, which supports XLS, DOC and PDF formats.

On the applications front, Cookie includes a calculator, touchscreen handwriting recognition, plus the usual selections, all accessible using the smart collapsible metal stylus.

Basically, Cookie is an excellent mid-entry touchscreen device, but it does not deliver enough punch to draw people away from their business-ready devices. It's fun, good-looking and powerful, but LG could do much more in the way of developing a unique user interface.


Verbatim

"Some may say this is the wrong time for a big trade show like this but they are wrong."

Arnold Schwarzenegger, the Californian Governor who was the guest of honour at the opening of ceBIT, the world's biggest annual high-tech fair that kicked off this week in Hanover, Germany.
Follow Emirates 24|7 on Google News.