LG Notebook X110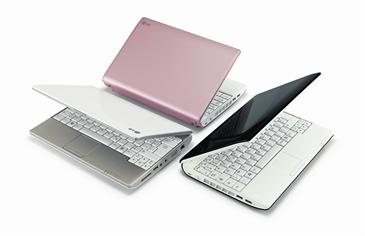 That netbooks are devices specifically invented for wireless communication and access to the Internet, we all know. And that they are stripped-down versions of the well-endowed, often complicated and more expensive machines called laptops, everyone agrees.

But what the industry and consumers haven't quite resolved is just how simplified, miniaturised or lighter netbooks should really be. The bevy of mini-laptops that have passed this desk have been largely disappointing. Some were too slow, others had keyboards too small to type on while the battery life of most of them left us wanting.

Yet, when the LG X110 entered this attentional fatigue-induced environment, it immediately caused us to take notice. The glossy paint finish with a tapered front edge design on the external shell gives it that sleek, stylish look while the device itself felt stable and reassuring when we placed it on our desk.

Lift the lid and you will immediately agree with me when I say the design team at LG deserves a pat on the back. The spacious keyboard is a dream to type on. It's smooth and soft, a far cry from many manufacturers who have shrunk the keys on their products so much that you end up looking like you're just learning to type.

The Synaptics touchpad, with a matte texture, is sensitive and responsive while the accompanying bar is a singular button but effective nevertheless for left and right clicks. At 10 inches, the display is bright and rich even at various viewing angles. Atop is the standard 1.3 megapixel web cam.

Other features include ports for Ethernet, a mic and a headphone, three USB ports and an SD card reader. We also loved the idea of putting vents on the left for hot air, which basically means you never have to burn your lap again.

But there's an issue with the sound quality and it's not just because the speakers are placed below, under the tapered front. No matter how hard we tried, and how many times we fiddled with the SRS WOW HD settings, we couldn't quite get the quality we liked. But it's a netbook and we don't want to demand too much off it.

Intrinsically, the Dh2,399 X110 threads the trodden path of netbooks – Intel Atom Processor N270, 1.6GHz and IGB system memory. There's also an additional 160GB hard drive.

But the icing on the cake has to be the 3G modem. This basically gives you true mobility as you can just insert your wireless SIM card in the slot under the battery and get connected anywhere, anytime. Lovely.


Verbatim

"This is really just the start of where we're going with this."

Chris deWolfe, Chief Executive of MySpace. The social networking site recently announced deals with Nokia and Palm where the mobile phone makers will adapt some of their phones to make uploading pictures or video to the networking site a matter of a single push of a button.
Follow Emirates 24|7 on Google News.