Motopure H15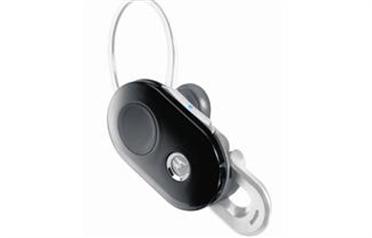 Here's a hands-free that has a lot going for it – not least the fact that it's nice and small.

When this type of device appeared a few years ago the first models were relatively bulky – there was something a bit show-offish about the early adopter crowd who wandered around chattering away loudly with one balanced on an ear.

Newer versions are less conspicuous and the sound quality has in most cases improved.

The Motopure H15, for example, has Motorola's CrystalTalk technology, which ensures clear sound at both ends of the connection. This is a noise-cancelling system similar to that found in up-scale headphones. Two little microphones built into the headset monitor background noise and the device's electronics generate frequencies in the ear that cancel out the unwanted racket.

This means you can hear the person you're calling clearly without their voice being drowned out by traffic in the street, strong winds or whatever. Motorola was criticised over the noise-cancelling performance of its previous model, the H12, but this new one works well.

On top of this the H15 has a clever flip design – to switch the device on you simply swivel out the little microphone. And you can set it up to work with two devices – useful if you have, say a conventional mobile for private calls and a BlackBerry for work.
To charge the H15 you place it on the supplied cradle and plug it in. Pairing with a Bluetooth-equipped phone is easy, thanks to a system that Motorola insist on calling EasyPair – what is it with gadget firms and all these silly one-word names? You can use the headset with a wide range of phones, not just Motorola ones.

The H15 comes with a set of different sized rubber ear inserts (or rather it has TrueComfort design). It's worth taking a little time to find which insert suits you best as a good fit is important to achieve the best possible sound quality. Once you get this right and place the plastic loop over your ear the device is light and comfortable to wear. There are volume controls and a button that you use to receive and end calls.

I like Motorola accessories – they are invariably well designed and built and, best of all, are easy to use with most phones from other manufacturers. This one, which costs Dh389 and packs so much into a small and stylish package, is no exception.


Verbatim

'The Kindle is to reading what the iPod is to music'

Paul Saff, a technology forecaster, referring to Amazon.com Inc's electronic reader, which is all set to launch its second version in the US next week. The device, currently priced at $359 (Dh1,320) on the company's website, was out of stock most of the fourth quarter with observers estimating that Amazon sold over half a million Kindles last year.
Follow Emirates 24|7 on Google News.