PRODUCT REVIEW: Canon HF10 HD Camcorder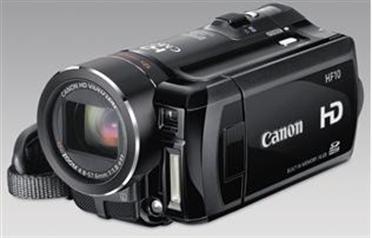 I'm not a camcorder fan. Perhaps it's because I've sat through one too many screenings of my friends' interminable uncut tapes of their latest safari holiday.

Or maybe it's because I find editing video on a computer impossibly fiddly and time consuming. Whatever, give me a still camera any time – capture the moment and all that.

Yet even I have to concede that Canon's HF10 is an awesome piece of kit.

It's as if someone drew up a wish list of every feature you could possibly want in a camcorder and then bundled them all – plus a few more – into a small unit that rests comfortably on the palm of your hand.

For a start, there's full 1,920 x 1,080 HD video recording – that's the top broadcast-level widescreen high-definition resolution – plus 16GB of built-in memory that holds as much material as 11 of those 8cm camcorder DVDs – and if that's not enough storage you can insert a memory card to add more.

There's 12x optical zoom, instant autofocus, Dolby Digital stereo, a bright 2.7-inch widescreen LCD screen, every sort of connector you could possibly want from HDMI downwards and a host of other features and settings.

This unit is so capable – it's ridiculous – for example you can take still photos while recording video and even the battery is intelligent.

The reason all this amazing whizz-bang technology fits into a case measuring just 73mm x 64mm x 129mm is that the HF10 uses solid-state flash memory. This means there's no need for moving parts such as electric motors, tape transport mechanisms or even a hard drive, and this reduces the weight as well as the size.

The manuals for Canon's high-end offerings can be a tad daunting, and the 120-plus pages that come with the HF10 are no exception. But let me direct you to the only page you'll ever need – Page 23, which explains how to switch on easy mode. Just press a button and the camcorder will take care of all the settings for you, leaving you to operate only the start/stop and zoom controls.

Alternatively you can use flexible mode and adjust the aperture and shutter speed yourself.

If you're looking for a money-no-object camcorder then the Dh4,099 HF10 is impossible to fault and, among consumer rather than professional models, probably impossible to better. It's a pleasure to use and produces outstanding HD video. The only proviso is that it would only make sense to buy it if you had a HD TV.

Oh, and did I mention it has 25p cinema mode, which makes your videos look more cinematic? Must tell my friends about that before they go on their next safari.
Follow Emirates 24|7 on Google News.