Samsung NC10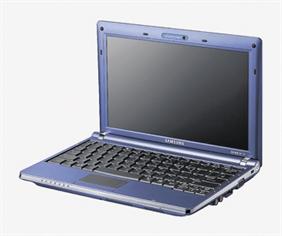 If you're already hooked onto ultra-portable lappies, your quest for 10-inch netbook perfection is over. The Samsung NC10 destroys its competition, leaving in its wake a dumbfounded assessor.

When it comes to reviews, I had given up on the tech empire. After millions spent on R&D and product design, they've always shipped a flaw. So when fellow gizmo freaks heaped praises on the NC10, I refused to be fooled by its clean sheet.

There had to be something. After all, it shares the same specs – 10-inch screen, 1.6-GHz Intel Atom processor, 1GB RAM – as the rest.

Keyboard, battery life, system performance, weight, design; something, anything…I couldn't colour every star, I've never kept that much ink. The sight of five full stars is simply against the principle. But the little toad didn't cave.

Through it's three USB ports I ran 500GB external drives loaded with music, movies and applications, but they ran just fine. Some even quicker than a regular PC/laptop due to the lack of system processes clogging its RAM.

All its ports sufficed: Ethernet, VGA, 3-1 memory card reader, mic and headphone jack.

Youtube, internet file downloads, multiple chat windows; I ran them simultaneously hoping to slow the darn thing down, but again it called my bluff.

As frustration encouraged every muscle to test its physical strength against my granite floors, sense prevailed – or perhaps it was the fear of dishing out Dh1,999 in these crunched times. Anyhow, pride and cynicism made way for reluctant, yet genuine praise. This is no contender; it is the benchmark.

Asus, Lenovo and other strange names now have their jobs cut out for them: Beat the NC10. It's seven-hour battery life ridicules the existing three-hour contenders. It's keyboard at 94 per cent of regular laptop size is a gift.

Where the touchpad stumbles in vertical height, it compensates on the horizontal. Perhaps that and it's small size, is why it lost a "flawless rating".

Maybe it could have come loaded with a better OS (we'll get into why I loathe Windows XP some other time), or more powerful in-built speakers, but since that's something one can tinker with post purchase I can't grudge Samsung. Argh!


The number

20m

The number of people accessing MySpace from mobile phones, according to News Corp, owners of the social networking website. The spontaneous and personal nature of communication on networking sites lends itself perfectly to the mobile phone, say experts.
Follow Emirates 24|7 on Google News.