The Trendy Reincarnation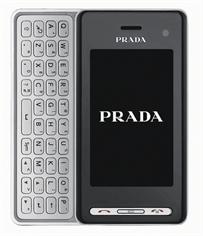 I am a touchscreen convert. And the future, as loosely defined by my creed, is a world where the need for buttons has been eliminated, completely.

So when the LG Prada II – or the LG KF900 – landed on my desk for review, I was in a bit of a spot. Will this reincarnation, which features an additional slide-out QWERTY keypad, hurt my doctrinal sentiments? I decided to take the trial.

First and foremost – and make no mistake about it – this is a fashion phone. A second collaboration between the Italian fashion house and LG, the device is a sleek, desirable and statement-making number. What else would you call a phone that comes preloaded with Prada's Fall/Winter 2008 Collection? The fashion theme is followed through in the packaging, which includes a stylish black cube with other contents neatly positioned in their own boxes inside.

Additions to the new phone include 3G, WiFi and a camera upgrade from two to five megapixels. The internal memory has also increased to 60MB while the card slot supports an 8GB microSD.

At three inches, the touchscreen has enough space to comfortably work in. We like the quirky "shake" feature where after you've dragged shortcuts onto the main screen you give the phone a little shake and the icons align themselves neatly. The same feature applies on the snakes and ladders game where you shake the phone to mimic actual dice throwing – another favourite.

But the LG Prada II has gained a bit of weight – it's 5mm thicker and heavier than its predecessor. Obviously this is to accommodate the slide-out, which, I have to admit, looks very good indeed and is an attempt to broaden the phone's appeal. (Businessmen, are you listening?). But the letters on the keypad I found were a little too spaced out. That, or the touchscreen faithful in me just needed a bit of getting used to. I'm not sure.

While you can't fault the KF900 on its features, messaging can be quite a task as the touchscreen can sometimes be a bit stubborn. Often, I found myself reverting to (horror of horrors) the keyboard, out of sheer frustration.

Still the LG Prada II is an object of desire. Good-looking, feature-packed and of course, the fashion association helps. Although I'm not so sure if I'd want to lose my religion over it.

And if all that info doesn't convince you to shell out the Dh3,333 this one commands, then the Prada Link just might. Separately sold, the Link is both a watch and a Bluetooth device. And we love it.

Monitor phone calls and read messages without pulling your phone from a bag or pocket. It's a brilliant little accessory, only you'll have to shell out an additional Dh1,799 for it. And yes, it will only work with the Prada II.

Oh, the price we have to pay to look good.
Follow Emirates 24|7 on Google News.