Groove and punk rock on the shelves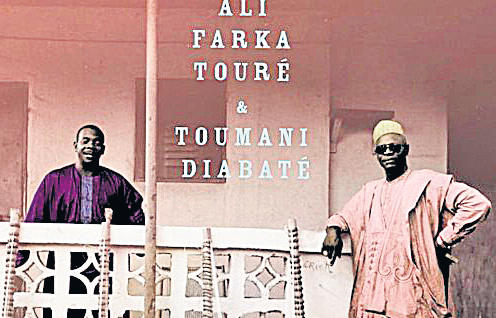 We take a look at the new album releases of the week showcasing dance-rock, Mali's rich culture and DIY songwriting.
—Black Light by Groove Armada: British electronic duo Groove Armada is best known in the mainstream for teaming with Fatboy Slim on the 1999 booty-shakin' Big Beat hit I See You Baby. But with the release of its seventh full-length album, Black Light, Groove Armada has a new claim to fame.
The quietly brilliant set translates the dance-rock explosion through the lenses of two guys who have lived the dance scene from the beginning. The result is well-read pop music that hints at everything from David Bowie to ESG to Serge Gainsbourg. There could even be a hipster hit – the song Paper Romance ambles into a shout-sing chorus that MGMT fans won't be able to resist.
Wrapped within this revelation is Saint Saviour, a co-writer on the album who also lends vocals to select songs in a style that switches from Robyn to Roisin Murphy to Stevie Nicks.
—Ali and Toumani by Ali Farka Toure and Toumani Diabate: Before dying of cancer in 2006, internationally renowned African guitarist Ali Farka Toure teamed up one last time with kora virtuoso Toumani Diabate to record Ali and Toumani, the follow-up album to the duo's 2005 Grammy Award-winning collaboration, In the Heart of the Moon.
Songs on the new set tell stories of heroism, hope and liberation in celebration of Mali's rich culture and heritage. On the track Ruby, Toure's meditative acoustic guitar playing melds with Diabate's high-pitched kora outburst to inspire images of Mali's desert landscape, and the pair creates an irresistible salsa groove on the danceable Sabu Yerkoy.
Ali and Toumani is spontaneous and deeply spiritual, depicting two outstanding musicians who are governed by nothing but their love for their nation.
—This Addiction by Alkaline Trio: In recent years, some fans have criticised Alkaline Trio for straying too far from its punk roots. But on its seventh album, This Addiction, frontman Matt Skiba follows through on a promise he made that the band would return to its DIY songwriting approach.
The song Off the Map is a no-fuss rock cut, complete with throbbing bassline and drug metaphors for domestic dysfunction ("I'm like a junkie for your smart mouth"). Listeners who still aren't convinced should turn to the raw-sounding and lyrically bitter P*** and Vinegar, which could easily fit on the band's 2001 effort, From Here to Infirmary.
But the addition of synthesisers (Eating Me Alive) and trumpet blares (Lead Poisoning) seems out of place on the album. Luckily, the good outweighs the bad. Fans will be pleased to find Alkaline Trio remembering what it's like to be itself.
- All albums are out now from Dh65
Keep up with the latest business news from the region with the Emirates Business 24|7 daily newsletter. To subscribe to the newsletter, please click here.
Follow Emirates 24|7 on Google News.