Forget the gym, this is the ultimate fitness course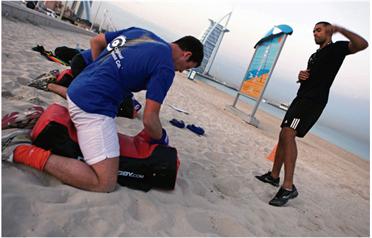 On a cold, dark Monday morning, Ziad Gerber begins to put Olly Higgins through his paces.

It's just gone 6pm, yet 24-year-old Higgins is already running laps around a small circuit set up on Umm Suqeim Beach.

As a trained Mixed Martial Arts (MMA) fighter, Gerber knows what is needed to get to the top of the Ultimate Fighting Championship (UFC) and puts recruits through four rigorous five-minute rounds twice a week.

But the people signed up to Original Fitness Co's latest course are not training to be champions, they're doing it for kicks.

Higgins, who works in property investment, says: "I signed up to improve my general fitness. I've been wanting to do it for a while as it's one of the best ways to get fit and it's more interesting than going to the gym."

With the recent announcement that UFC 112 will take place in on Yas Island in April, the sport is sweeping the country. But Original Fitness was somewhat ahead of the game as its first MMA courses started last month.

They have proved so popular that 75 per cent of clients have signed up again.

"There's a lot of hype about UFC going mainstream so we're inviting people to come down and see what a fighter goes through," says Corey Oliver, Managing Director of Original Fitness Co.

MMA incorporates jujitsu, wrestling, boxing and kick boxing. Within each five-minute round, recruits do five activities for one minute each, with a warm up and cool down at either end and can be so effective, there is no need to lift weights.

"You might still want to run but you don't need to do weights because we do a lot of core work – you can do a lot with your own body weight. UFC fighters have to be very fast and explosive otherwise they get beaten so we do some sprinting, ladders and hurdles," said Oliver.

"Flexibility is also very important because you have to throw people around so we also get people to hold yoga-type positions to improve core strength."

The course has not just taken off in Dubai but the Abu Dhabi evening course, run on the public beach by Emirates Palace, has comparable numbers to the one in Dubai's Safa Park sessions.

Gerber, who has been competing in MMA for four years, says: "It is booming and with the UFC it's really going to kick off. It's the new thing everyone is getting into and because the training is so different it's not boring."

Perhaps surprisingly, there are large numbers of women signing up, who out-number men 3:1 at some classes.

The trainers believe the sport is here to stay but it's not easy, as Higgins shows as starts his cool down.

"It really works the core and people feel it every day. It's the way forward," adds Oliver.
Keep up with the latest business news from the region with the Emirates Business 24|7 daily newsletter. To subscribe to the newsletter, please click here.
Follow Emirates 24|7 on Google News.