Greying China: getting old before getting rich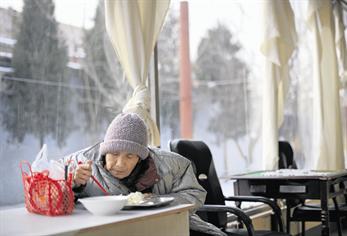 At a nursing home in the suburbs of Beijing, 86-year-old Ma Shufan, still sprightly despite her advanced age, is thrilled to have friends. At her son's home, she likely would spend her days alone.

The best part? Having mah-jong partners.

"This is much better than being with my children. They have to go to work, and no one has the time to talk with me. My son did not even have a room for me," said the former school teacher.

With more than 160 million people over the age of 60 and its ageing rate gaining pace, China is facing a curious problem: it is greying while still in development – a challenge other economies have only had to face at a more advanced stage.

The speed at which the number of elderly in China is increasing has alarmed both the government and demographers about the future, with the nation's healthcare system already straining and two-thirds of rural workers without pensions.

"Population ageing is going to be a big social problem in China," said Wang Xiaoyan, the founder of Community Alliance, one of the few non-governmental organisations in China that addresses the needs of senior citizens.

The first generation of parents affected by China's population control policy put in place in 1979 – which the government says has averted 400 million births – is now hitting age 60.

The tens of millions of one-child homes, coupled with mass migration of students and workers to urban areas, has destroyed the traditional nuclear family model.

Instead, ordinary Chinese are coping with a 4-2-1 inverted pyramid – four grandparents and two parents, all the responsibility of an only child.

As a result, half of China's over-60s – 80 million people, or roughly the population of Germany – live in "empty nests" without their children, who are unable to assume responsibility for their ageing parents.

"This is why we have problems now," said Wu Cangping, an 88-year-old demographer who still teaches at Renmin University. "Children do not have enough money to take care of their parents. We're getting old before we are getting rich."

The thorny problem of a greying population has not escaped notice in the corridors of power in Beijing.

Authorities have put in place a system effective this year that will give pensions to 10 per cent of rural workers. In recent years, they have also been raising healthcare allotments for the elderly.

The government wants to allow 90 per cent of older people to receive family care with welfare assistance, six per cent to receive state-backed community care services and the other four per cent to move to nursing facilities. But the country's 40,000 retirement homes only have 2.5 million beds – enough for barely more than a quarter of the eight million it needs. "Today, we need 5.5 million more beds to fulfil demand," said Community Alliance's Wang.

At the Ren Ai (Kindness/Love) home where Ma lives, construction work is under way. Soon 400 more beds will be available, a major jump from the current 100 on offer, according to Director Wang Liwen.

"There are not enough nursing homes," said Wang, who has a backlog of 200-300 admission applications.

The residents of Ren Ai, most of them former workers and farmers with tiny pensions, pay Y1,350-Y1,550 yuan (Dh734-Dh825) a month to live in the home, says the parka-clad Wang in her chilly office.

She offers a tour of the new, windowless 215-square-foot rooms – to be shared by up to three residents.

"If their pension is not high enough, or if they don't have one at all, the children pay. But some older people have no children and no money, and we take care of them too. Some old people think their kids have abandoned them," said the home director.

Wu, the demographer, says he is confident that China will not experience the same crisis over the ageing seen in some Western countries.

"The government is now spending very little on care for the elderly and health expenses" but that trend is being reversed, Wu said.

"Spending on the aged will not create a budget crisis. We have the means to spend a lot on the elderly."
Keep up with the latest business news from the region with the Emirates Business 24|7 daily newsletter. To subscribe to the newsletter, please click here.
Follow Emirates 24|7 on Google News.