Mexico tackles tortillas and other fatty choices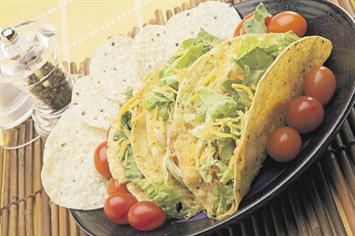 Mexico's rich diet of tacos, tortillas and tortas (large sandwiches), which is jokingly nicknamed "Vitamin T", has steered its children to the top of world obesity charts.

The government last week launched a new campaign to battle obesity, which it estimates to cost the health system about $3.2 billion (Dh11.75bn) per year.

"Obesity and excess weight are one of the biggest health challenges that Mexico is facing today," President Felipe Calderon said as he introduced the public-private plan to improve eating habits, mainly among children.

Nine-year-old Diego attends a school in a middle-class neighbourhood of Mexico City, and he said the food was healthier than it was three years ago, when there were many fried dishes made from corn.

But he added that they still sell "quesadillas" – rolled corn pancakes filled with cheese and sometimes fried in fat – as well as popcorn layered in butter and sugar-filled drinks. There was only one and a half hours per week of physical exercise, Diego said.

"And that's only when the teacher comes, which is not all the time, and sometimes we're punished and we don't go outside," he said.

Calderon admitted that Mexico had the highest number of overweight adults in the world, which means a Body Mass Index (a statistical measure that compares weight and height) of more than 25. Its children had the highest rates in the world for obesity, which means a BMI of more than 30.

The president deplored that Mexico spent $3.24 to treat illnesses linked to excess weight and obesity in 2009, such as diabetes, which is the number one cause of death in the country.

The new plan is based on a French project known as Epode, which has shown success at reducing child obesity through physical activities, weight monitoring and promoting drinking water and eating fruits and vegetables.

Food and drink advertising in Mexico is already supposed to promote healthy eating and exercise, but the requirement is often ignored. And the battle against obesity is not easy in the country, where street vendors outside schools sell vast selections of brightly-coloured sweets and enticing fried foods. Some private schools have already introduced initiatives to improve diets, with varying success.

Veronica Kim, the mother of two children aged nine and 10 who study at a private school in Mexico City, said the healthy food the school offered was too expensive. At least there were more sports on offer at private schools, she added. Outside the public school, Maria Esther Sanchez, Diego's grandmother, said she struggles daily to persuade the nine-year-old to turn to fruit from tacos.

Mary, the manager of the school's food shop, said she had been told to help children improve their eating habits, but added she had weight problems herself.

"We weren't educated to eat healthily. Our food is full of fat and flour," Mary said. "The worst thing is that the tastiest dishes are the most fatty ones."
Keep up with the latest business news from the region with the Emirates Business 24|7 daily newsletter. To subscribe to the newsletter, please click here.
Follow Emirates 24|7 on Google News.