Stay fit and healthy whatever your budget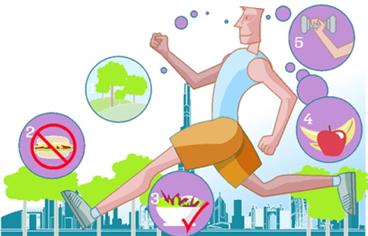 The party season is over and the hard work must begin. As the new decade gets underway, so do new trends in the diet and exercise arena.

When it comes to health trends, recessionistas and calorie-counters will be leading the way in 2010, according to the US-based Calorie Control Council.

The association representing the low-calorie and reduced-fat food and beverage industry, says people will be watching their dirhams while also considering their overall health. When it comes to exercise though, most people are still willing to invest in the latest gadgets, it adds.

With the help of experts, we've put together our top tips on how to stay fit and healthy throughout the year whatever your budget.

Walking burns calories in a healthy way

One of the main benefits of the UAE is that it is predominately flat. There are also numerous parks with purpose-built running and walking tracks as well as the beaches, so walking is an easy and free way of staying in shape.

Beth Hubrich, a registered dietitian and executive director of the Calorie Control Council, who has been tracking dieting and weight-loss trends for more than 20 years, weighed in on this issue stating: "Consumers are considering their health as well as their wallets.

"Although there may be an uptick in the economy, people are looking not only to improve their financial health but to also better their physical health."

Stay in to stay on track

Eating out can often be problematic for people on a diet but recessionistas will find their new eating regime helped by the fact they cook at home more often.

Carole Holditch, who runs Good Habits in the UAE, says: "A lot of people say they put on the "Dubai stone" and for half of them it's down to eating out more and a lack of exercise but staying in helps them keep their eating on track. It's important that people do not substitute their old eating out habits for fast food. It's cheaper but it's not a good idea."

New diet fads

The New Year often heralds a new set of diet fads and 2010 is no different. But in the same way as 1980s harem pants and shoulder pads have been back en vogue lately, diets from yesteryear are once again trendy, says Holditch.

"There are some interesting diets becoming popular again, such as the tapeworm diet, in which people eat tapeworms so that they absorb the calories but it can cause malnutrition. The worms can also go from the stomach to other parts of the body, so this diet is not very healthy," she says. "The South Beach Diet also remains popular and continues to be the best selling diet book. There's also the Mediterranean Diet, which is very good and the Glycaemic Impact Diet, which moves on from the Glycaemic Index diet, promoting steady weight loss. It's the latest thinking but is still sensible."

Natural nutrition

Although there is no clear definition of "natural," some consumers prefer foods and beverages they perceive as natural. Eating organic also remains popular and while the experts admit it is better for you, it can come at a price. But consumers should be sure they are getting what they pay for.

"If you can eat organic and know it's organic, then it has to be better for you but it's not a perfect world and it is much more expensive and can be challenging in this environment," says Holditch.

Living room workouts

With cash being king, many consumers will opt out of a gym membership and instead rely on "at home fitness" opportunities. Consumers will look to fitness DVDs, Wii's and other opportunities to get more exercise at home. Walking around the neighbourhood, biking on local bike trails and purchasing an inexpensive pedometer will all be worthwhile investments.

The ViPR, pronounced viper, is taking Britain by storm as it means people just need the one one metre-long rubber tube rather than various dumbbells to achieve optimum results. The pipe-like gadget can be carried, flipped, thrown, dragged, stepped on and rolled for an overall workout.

Alternatively, fans of the Power Plate might like the Shake Weight, which has been much talked about on both sides of the Atlantic. The dumbbell-shaped device vibrates when held and can be used to tone the arms. Its makers claim just six minutes a day is enough to get rid of bingo wings.

Work up a sweat to work off the pounds

Fitness First has launch a range of new exercise classes in association with the adidas Academy. Take your pick from yoga, Latin dance or kick-boxing. The only downside is that you have to be a member to take advantage.

Ellen Peacock, Brand Marketing Manager for adidas, says: "Yoga started as a fashion trend a few seasons ago and many people see it as the perfect sport–it's not just for relaxing and meditating but for toning as well."
Keep up with the latest business news from the region with the Emirates Business 24|7 daily newsletter. To subscribe to the newsletter, please click here.
Follow Emirates 24|7 on Google News.