With screwdriver, China doctor gives gift of height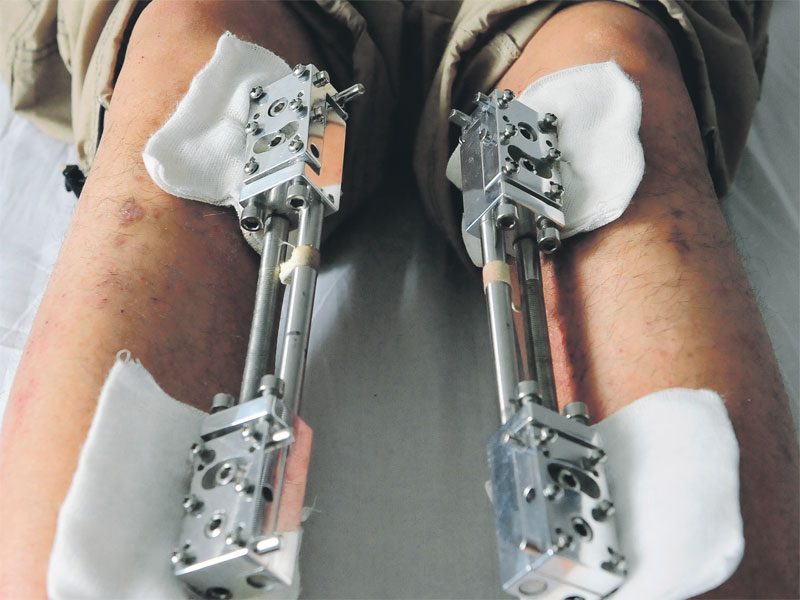 Orthopaedic surgeon Bai Helong hikes up his trousers, places his foot on his desk and marks the spot just below his hairless knee where he cuts into the legs of patients who want to be taller.
Over the past 15 years, Bai has given the gift of height to about 3,000 patients aged 14 to 55 – Chinese, Americans, Germans, Japanese – about half of whom went through with surgery simply because they did not like being short.
"I'm something of an authority in this field," explains Bai, who uses a technique he developed himself at a modest private clinic in the suburbs of Shanghai. He saws through both the tibia and the fibula below the knee – "without touching the bone marrow", he says – to "make the dream come true" of those who say they suffer psychologically from being short.
One week later, the bones begin to regenerate. Heavy braces made of nickel and titanium, each weighing about half a kilo, are screwed into the inner part of the patient's legs.
Every day for the following four months, Bai expands the braces to gradually stretch the leg.
"We need four months to get six to eight centimetres," or two to three inches, the surgeon says. After that, for four more months, the bones get stronger and patients are allowed to begin to walk.
Leg-lengthening was first performed in the 1950s in the former Soviet Union, and then in China, but with sometimes catastrophic results.
In the past, the leg was cut in three places, affecting the delicate bone marrow, and pins were used to steady the bone. In some cases, one leg was left shorter than the other and infections were common.
Today, Bai says, the procedure is safe. Instead of stretching the leg by 1.0-1.5mm a day as in the past, he aims to progress half as fast.
"We've not had a single failure since 1995, and now it's not painful," insists the doctor, who charges Y75,000 (Dh40,368) for the surgery.
So who is willing to endure such a procedure, which involves months of total immobilisation and a fair amount of discomfort?
"A small person can encounter all kinds of problems – in his or her marriage, family life, workplace," Bai says. "The person feels inferior, and experiences psychological problems. I even have met people who wanted to kill themselves."
Dan Dan, a pretty 25-year-old Chinese woman who is studying Japanese, says she was unhappy when she stood 1.53m tall. Four months after surgery at Bai's clinic, she is smiling – and 6cm taller.
"I wanted to improve my self-image. I am very happy," says Dan Dan, grimacing as she walks at a snail's pace on crutches through the halls of the clinic, her body contorted.
"I hope that within a year, I will be able to walk normally. Running, that's another story," she says.
Only Dan Dan's mother is aware of what she is doing – her friends have no idea where she is.
Follow Emirates 24|7 on Google News.