It's one of the biggest roles of his life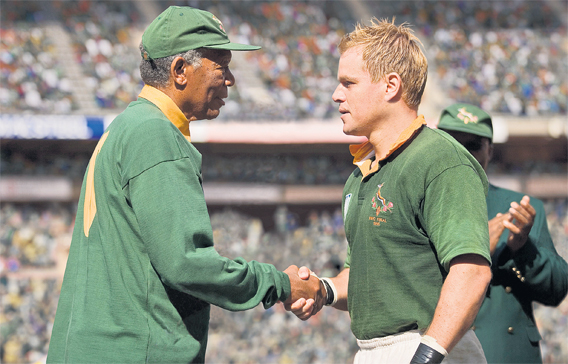 It's not everyday a massive Hollywood star visits Dubai – and is willing to go through endless interviews with the region's media. But for a certain Morgan Freeman, the actor was more than happy to do just that.
The 72-year-old was in the emirate recently to pick up a private plane he had purchased from one of the region's manufacturers, and rather than quietly sneak in and out of the country, Freeman spent hours meeting television, radio and print media, talking about everything from his hobbies to his film work.
At the time of his visit, his latest film Invictus had just received its world premiere, and with the movie scheduled for release today in UAE cinemas, Emirates Business was curious to find out more about the motion picture.
Based on a true story, Invictus portrays how newly elected president Nelson Mandela joins forces with the captain of South Africa's rugby team, Francois Pienaar to help unite their country, having been racially and economically divided since the apartheid.
Freeman plays Mandela, whilst Matt Damon takes on the role of Pienaar.
According to the actor, he had been always been destined to play the great South African leader.
"Back in 1992, during the press conference for the publication of his autobiography, Long Walk to Freedom, somebody asked him: 'Mr Mandela, if your book becomes a movie, who would you like to play you?', and he replied: 'Morgan Freeman'.
"So, from then on, it was like, okay, Morgan Freeman is going to be Mandela at some point," says Freeman.
Naturally, Freeman felt a tremendous responsibility taking on the character of such a great personality.
"I had a lot of pressure to bring a character like that to life in any kind of real sense. The biggest challenge I had was to sound like him – the voice… the accent," he says.
"Everything else, such as walking like him or certain mannerisms, for instance, was kind of easy to do. I had been watching him for years. Once I got the notion that one of these days I would be playing him on-screen, it became a question of paying close attention to him.
"That applied to whenever I was in his company or when I'd see him on screen, or anywhere. I'd watch him and think to myself: 'One of these days, I'm going to have to do that'."
Directing the film was none other than Clint Eastwood, who Freeman admits is one of his favourite co-workers in the industry.
"I think that Clint is my favourite director because I respond very well to the one- or two-take director and he's the most consistent in that area," he says.
"There are directors who need 20 takes, but I don't think they know what they want, and it doesn't help the actor's sense of security when you have to keep doing something over and over.
"Clint expects you to know what you're doing and he's going to take two giant steps back and let you do it. I just have such deep appreciation for that part of him."
Keep up with the latest business news from the region with the Emirates Business 24|7 daily newsletter. To subscribe to the newsletter, please click here.
Follow Emirates 24|7 on Google News.