A Rough guide to…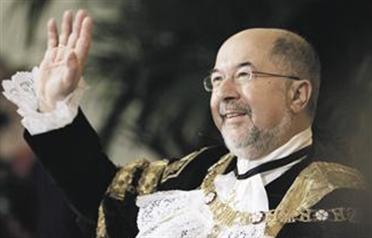 Who? Luder is the Lord Mayor of London. As head of the City of London Corporation, he provides business and local government services to the City and his principal role is ambassador for all UK-based financial and professional services. The Lord Mayor of London is not the Mayor of (Greater) London. That title belongs to Boris Johnson.

How long has he been in the job? Three months. The City elected Luder as the 681st Lord Mayor of the City of London, to serve from November 7.

Luder, who served as Sheriff of the City in 2007-08, was an eminent tax accountant and City businessman, with a long-standing commitment to public service.

The annually elected Lord Mayor typically spends three months a year leading City business delegations overseas – and also meeting leading overseas politicians and business leaders visiting London.

Why is he in the news? Luder will lead a large business delegation to the Emirates from today until February 18 as part of a 12-day visit to the Gulf.

The programme for the visit to Dubai includes high-level meetings with business leaders and policy makers.
The Lord Mayor will travel with a business delegation of around 20 which includes senior representatives of investment banks, asset managers, insurers and law firms.

Why is he coming? To build and cement ties with the region's policy makers and businesses. He will be urging Gulf investors to keep London as a top priority in the future.

The programme for the visit to Abu Dhabi includes meetings with the Central Bank governor, Sultan Bin Nasser Al Suweidi, and President of Abu Dhabi Chamber of Commerce and Industry, Salah Salem Bin Omair Al Shamsi.

What has the Lord Mayor said so far? "Our relationship with the UAE is hugely important and on this visit I hope to continue building on that relationship. I look forward to sharing our experience of Islamic finance in the City, and also encouraging UAE-based financial institutions to look to London as a partner in business. The visit comes at a critical time.

"In recent months global financial markets have been rocked by the credit crisis which has spread around the world. Now, as we begin to re-build market confidence and financial stability, the value of trusted and close relationships, such as that between the United Kingdom and the UAE, are more important than ever."

Where else is he visiting? After visiting Dubai he will travel to Abu Dhabi, Qatar and Saudi Arabia where he will promote the City of London as Europe's international financial centre.

He will also promote bilateral trade and investment, education and training and build on existing as well as forge new relationships.
Follow Emirates 24|7 on Google News.