Brand leader with an eye on the developing world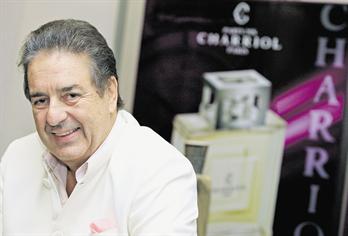 Few international luxury brand leaders are relaxed enough to conduct an interview seated on the floor of a meeting room.

But even in his gleaming white suit, Philippe Charriol, founder of the eponymous luxury brand, has no such qualms: for the better part of a nearly hour-long chat with Emirates Business, he is happy to sit on the floor, Asian-style, he says, in homage to my culture.

Which is entirely appropriate, because Asia is where both the history and future of his 25-year-old brand lie.

"I've just come back from China, the new El Dorado," he says, in the UAE to launch a new perfume for men.

Following on from a ready-to-wear boutique launch in 2003, Charriol opened 35 new standalone stores there last year and expects to open another 60 this year.

With a retail turnover of $150 million (Dh551m) in 2008, according to Charriol himself, the group now retails its perfumes, pens, timepieces and jewellery in Europe and the Middle East, adding a ready-to-wear range in Asia. In total, the brand is now available at 88 boutiques, 485 shop-in-shop corners and more than 3,000 other retail points.

But that growth – even in the country experts say has done best in this recession – comes at a time when the luxury business has been hard hit by what is being labelled the worst financial crisis since the 1930s.

Premium watch brands have been particularly hard hit, and Charriol, who produces 45,000 watches a year, says business declined 33 per cent last year, mostly as a result of a sharp sales drop in the United States. "America is flat down on the floor, Japan is very, very affected," he says, gesticulating wildly to prove his point.

Going forward in 2010, then, he continues: "I think business will be close to flat. In other words, we reach bottom and will cruise there for a few months.

"I don't forsee big growth, maybe a little here and there but nothing fantastic. South-East Asia is the only area that has decent growth because of the large populations in places such as such as Thailand and Indonesia."

And of course, China. Charriol says his Chinese licensee is investing in the region of $15m in this new garment venture. "I provide the name, the design, not the investment," he says.

But the licensee route can be dangerous – after all, Pierre Cardin has been ruined by an open-handed licensing policy.

"Yes it is a minefield, but Cardin went this way because he liked this way. He could have said no, but somehow I think he wanted to dress the people. And he went to China when they were hard, hardliners, it was not the time to do luxury business there, so he did normal basic lines – and that didn't do well," he says.

"But for us, in China, we cater to the rich. It's a European brand and we don't compete with the low-end – which is no end."

He is, however, launching a new, mid-market range of watches and jewellery as part of a strategy to combat lower consumer spending in the recession. Like his Parisii range of watches, it is priced between 20 and 25 per cent lower than the flagship line and is set to hit stores about now. "We're not reducing our prices, we're launching a new market-friendly product. That's why it will work."

The most pocket-friendly of his products is perfume, a sector he diversified into a little over a year ago to celebrate the 25th anniversary of the brand's founding. The line was first rolled out here in the Middle East with local franchisees Al Tayer.

"Launching a perfume," he says, "was a new life for the brand because it was a new direction, luxury for the masses instead of luxury for the so-called elite – not the super elite, eh! And it's quite interesting for the brand because you have a myriad of new customers you didn't have before. In my business, you sell in a few thousands and with perfumes you can go for more. Millions would be great," he laughs.

One year later, he has put out a new fragrance for men that's clearly aimed at regional consumers with its black and gold bottle and woody, musky, near Oriental scent.

"In the Middle East, we are doing very well; this region is always heaven for fragrances," he says, adding that the brand is particularly popular in Saudi Arabia. "The fragrance will also do fantastically here [in the UAE]. It takes a bit of time also to get into the piping of the distribution and for people to accept that Charriol is also in fragrances, to go one step further and discover a watchmaker-jeweller getting into fragrances."

While diversifying into perfumes, garments and leather goods is not the commonly trod path for watchmakers, Charriol says if fountain-pen manufacturer Montblanc could go that route, so can he. "Once you have the name, you can be open to other products if you are not the most inaccessible brand in the market. I'm not making a million-dollar watch or a million-dollar necklace, I'm not in that category, I'm in the middle-high category.

"I'd like to position myself as the House of Charriol."

The way forward, then, is more Hermès than Montblanc. "My core business is still watches and jewellery, but ultimately I want to have a more complete offering without spreading myself too thin, otherwise you cannot control anything."

Perhaps that is why he says that for the moment, he has no plans to take the ready-to-wear line international.

"I don't say never, you never say never, but it would not be very soon. For the time being this is a development concentrated in China, and the country's size means the only way forward it to make sure you do it perfectly. It's in a way a test market and a test line for me."

And being a family corporation means limited resources to invest in international growth. Strategically, he says he wants to go into India next, but after a relationship with Tata's Titan line of watches ended, he now insists he will only make his move once he has found the right agent. "Brands like mine can only grow with the right partners in the right markets," he says.

Marseilles-born Charriol quit his job as president of Cartier to strike out on his own in 1983 at the age of 40 with $2m of his own money. He decided then that the route to worldwide success began in Asia, where he already knew people in the trade.

From a corporate office in Geneva, he set about establishing himself in Japan and South-East Asia. Success there enabled him to take his brand global, into the United States and the Middle East – but all along, he has remained independent, retaining control of his firm rather than sell out.

It must have been hard, I say, to resist selling out – there was a time when everybody thought fashion conglomerates such as LVMH or PPR would take over the world.

"They never give me the right price," he says simply, even as he explains the difficulties of keeping it all in the family. "Not being part of a group is rewarding in a sense; you can take decisions easier, you are independent. But on the other hand, it's very difficult because you lack financing and can be difficult to move between those monsters.

"When I started 26 years ago, they were big companies, not multi-billion-dollar corporations. Today the air is much rarer. My distributors today have difficulties finding proper locations because the good locations are always given to those groups; even the press is forced to follow those groups. It's getting more and more difficult.

"But there is one thing – you can't swallow everything. When you try to swallow too much, then you finally die from over-eating. All those groups, at some stage they will have to vomit it all up. The crisis was a good thing for them."
Keep up with the latest business news from the region with the Emirates Business 24|7 daily newsletter. To subscribe to the newsletter, please click here.
Follow Emirates 24|7 on Google News.