Capital focus on non-carbon enterprises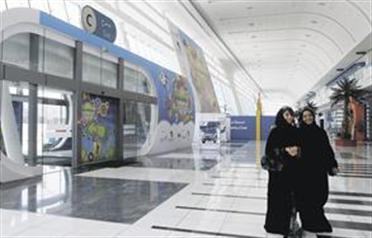 The Abu Dhabi Government started in 2007 the first phase of strategic planning on the development of a comprehensive five-year diversification strategy for the emirate. One of its three primary goals is to further expand non-carbon enterprises and growth industries such as the meetings, incentives, conferences and exhibitions (Mice) sector.

Preceding the final version of this short-term strategy is the broader 'Plan Abu Dhabi 2030: Urban Structure Framework Plan'. The plan estimates the capital city's population will reach more than three million people by 2030 and calls for the proper and efficient planning of the necessary residential and commercial structures to support this wave of residents and visitors.

"Abu Dhabi's forward-thinking vision for growth provides a solid foundation for the live events sector, which has steadily emerged as a major income generator for the capital," said Simon Horgan, Group CEO, Abu Dhabi National Exhibitions Company (Adnec). "International event organisers are attracted to the emirate's rapid development and its focus on cultivating a sustainable business environment. Abu Dhabi's aim of becoming an international centre for various industries makes it an attractive destination for both fledgling and established trade events."

Since the opening of the Abu Dhabi National Exhibition Centre in February 2007, the city has seen a huge number of major new events such as Cityscape Abu Dhabi, World Future Energy Summit and GIBTM, which have been created to serve new industries. However, the venue has also helped serve the traditional industries of Abu Dhabi such as Oil and Gas, and Defence by ensuring that its two largest shows, Abu Dhabi International Petroleum Exhibition & Conference (Adipec) and International Defence Exhibition and Conference (Idex), have been given the platform the grow and develop into two of the world's foremost exhibitions. In November, Adnec staged Adipec 2008, the event coincided with opening of Adnec Phase 2 and became the largest exhibition ever staged in Abu Dhabi. This is a crown that Adipec will hold for just three months as in February 2009 the ninth edition of the Idex will be held at Adnec and will become the largest ever exhibition to be staged in the Gulf region.

Idex which is arguably the highest profile exhibition in the Gulf region will fill every square centimetre of Adnec's 55,000 square metre venue, plus outside and marine exhibition space. The event has been carefully planned for over a year and promises to be one of the most spectacular events ever held in the UAE. Organised by Adnec in association with the UAE Armed Forces, the event will gather more than 900 companies to showcase their latest products, systems and technologies to government officials and military personnel from all over the world. Idex 2009, which is already assured of setting new records in the Gulf in terms of scope and quality, typifies the sort of high-profile events that have become much-awaited revenue-generating events across Abu Dhabi's various business segments.

Exhibitions such as Idex create an environment for serious business to be done, boosting both their own industries and the economies of the host city. Throughout the UAE, the Mice sector has helped boost annual business travel revenues to more than Dh3 trillion and is expected to further push the figure beyond Dh5trn by 2018. Locally, Abu Dhabi is transforming into a formidable Mice destination, Adnec alone is expected to attract more than one million visitors on a yearly basis, many of these from overseas, and in the process boost the entire UAE exhibition industry by at least 25 per cent. Abu Dhabi has consistently ranked as the top Arab city for business travel in international business travel surveys, which makes it a perfect Mice destination.

Aside from nurturing its own industry, Abu Dhabi's Mice sector has helped accelerate the growth of numerous businesses. The domestic transportation and hospitality sectors in particular have been major beneficiaries of the boom in trade shows and business events. In the realm of air travel, Abu Dhabi International Airport reported a year-to-date growth of 32.3 per cent in late December 2008, going against global industry trends. Many of the travelers were included in various Mice activities, and a significant number were business event returnees.

James Hogan, Etihad Airways' Chief Executive, said: "The Gulf's global meetings and incentives industry is growing fast and attracting increased international interest, much like Etihad Airways. We are committed to growing the market and we're pleased, therefore, to see Abu Dhabi continue to expand its own exhibition facilities and Mice-related activities."

The hospitality sector is also feeding off of the success of domestic Mice activities. Abu Dhabi reported a 39.9 per cent increase in revenue per room in the first nine months of 2008. This robust demand for hotel rooms has accordingly propelled hospitality property developments, and is expected to lead to the introduction of 23,000 more rooms by 2012. Hoteliers affirm that business guests represent a significant population of their present and projected occupancy.

In November 2008, the Abu Dhabi Tourism Authority coordinated with local hotels the enforcement of a temporary accommodation price ceiling specifically intended for Idex 2009. All parties also agreed that no 'minimum stay' periods would be imposed and that no charges would be applied to room cancellations. This initiative reflects just how serious the government and industry view the potential economic impact of Mice events.

Exhibitions and related activities have ceased to become one-shot deals in the eyes of the capital's key economic players and have instead become valuable stimuli for domestic growth.
Follow Emirates 24|7 on Google News.