Damascus: balancing ancient with new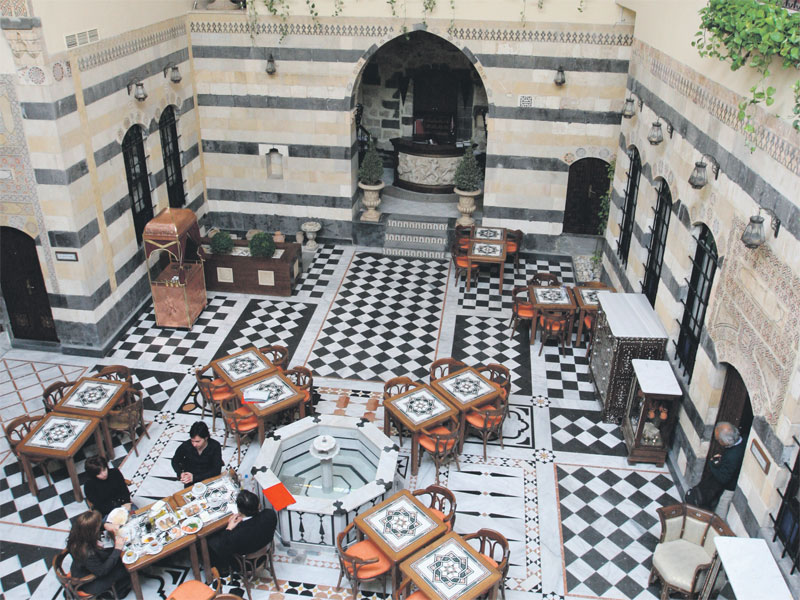 Damascus, arguably the world's oldest city, is bustling with chic new life as Ottoman-era homes are turned into boutique hotels and trendy restaurants jazz up their traditional Middle Eastern fare.
But the slow transformation of Old Damascus – a Unesco (UN Educational, Scientific and Cultural Organisation) world heritage site that has been inhabited for five thousand years – has also raised hackles with one activist calling it a "cancer".
In recent years some 200 hotels, restaurants, cafes and bars have mushroomed in the narrow alleyways and cobblestone streets of the ancient city.
European, American and Arab tourists, but also affluent and hip Syrians, are drawn to what many see as a magical place, steeped in history and Arabic tradition but also increasingly attentive to tourists' needs.
"It's like a fairy tale," said Regina, a teacher of French from Switzerland, as she reclined with a book in the sunlight-dappled courtyard of the Beit Al Mamlouka hotel, gentle birdsong and the soothing trickle of a fountain in the background. "This place is fantastic. It should be preserved for ever."
First built in the 16th century in the Christian quarter of Bab Tuma, or Saint Thomas's Gate, in the walls of the old city, the five-star Beit Al Mamlouka was the first of the old city's historic houses to be revamped.
Opened in 2005 after three years of restoration work, its eight bedrooms are named and decorated to reflect different periods in the region's history.
"People here are beginning to accept the idea of such hotels and they are becoming popular," said Rula Dudash of the hotel's management, who says most of its visitors are British.
Founded in the third millennium BC, Damascus was the centre of a flourishing craft industry in the Middle Ages, specialising in swords and lace.
According to Unesco, it is one of the oldest cities in the Middle East and is believed to be the oldest continually inhabited city in the world.
It boasts some 125 monuments including the eighth-century Great Mosque of the Umayyads.
Also in Bab Tuma, not far from the spectacular mosque, is a 400-year-old house that was once owned by Abdelrahman Shahbandar, a prominent nationalist during the French Mandate over Syria and Lebanon in the early 20th century.
It is now the Shahbandar Palace, another trendy hotel with restaurant.
"We renovated the entire hotel, which has 11 rooms including royal suites, without affecting its original shape or artefacts like mosaics which date back hundreds of years," operations manager Lina Al Yassini said.
"The competition is tough," she said, adding that such restoration projects costs millions of dollars.
"When I first saw the hotel and its rooms, I thought of the Arabian Nights folk tales," said Hala, a visitor from Jordan.
Today Syria is injecting a lot of effort into developing tourism. Investment in the sector came to $6.2 billion (Dh22.75bn) last year, against $86 million in 2004, according to the tourism ministry. But even as the government and investors tout development they say is vital for the Syrian economy, critics are crying foul.
"These projects have distorted the oldest city in the world. They are spreading like cancer – it's a crisis," said journalist and activist Waad Mhanna.
Mhanna runs a society called Heart of Damascus which seeks to protect the old city from badly-planned development.
"They have increased property prices in an unbelievable way. Residents have found themselves forced to sell up and leave the old city because they can't afford renovations," he charged.
Others are leaving the old city to escape the pollution and noise caused by the restaurants and hotels, he said. "It's very difficult now to fix all this mess, but the remaining parts of the old city should be protected and residents should be given loans to renovate their houses and stay there," Mhanna said.
According to independent estimates, the population in the 127-hectare old city has fallen by around 50 per cent in just over a decade, from about 60,000 people.
"The old city is losing its authenticity and identity in the absence of effective laws to regulate such businesses and protect our heritage," Mhanna charged. "There is no mechanism to treat waste water there, not to mention electricity and pollution problems."
He wants the Damascus authorities to protect the old city, but they are staunchly behind its development.
Follow Emirates 24|7 on Google News.