Five questions to...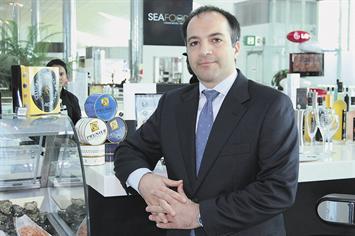 Famous for serving caviar and other seafood delicacies, Seafood Bar – Caviar House and Prunier has seen its outlet in Dubai International Airport's Terminal Three go from strength-to-strength in the five months since it launched.

But the terminal was not local franchisee Spadamco Holdings' first outlet. Having closed down stores at Madinat Jumeirah and BurJuman, the company says now the airport is the ideal place to re-launch the Switzerland-based brand in the UAE.

Managing Director Nicolas Rubeiz explain to Emirates Business why the passing trade is so lucrative.


What has the appetite for caviar been like since you opened?

We opened during Ramadan so that month was understandably quite hard, but since then the business has been in line with what the company expects of a seafood bar around the world. We are in constant progression and have quite a substantial rate of repeat customers.

What prompted you to open an airport outlet rather than opt for a more traditional location, such as a mall?

Our first outlet opened in Madinat Jumeirah in 2007, but we closed once the lease expired. We also had an outlet in BurJuman but given the crisis, tourist numbers were down, as was spending on dining out. Business also went down drastically in BurJuman due to a combination of the crisis, poor accessibility due to the Metro works, and more competition, mainly from The Dubai Mall. The end of the Madinat lease coincided with the opening of the airport venue, so it made sense to move our staff to Dubai Airport. We now believe we offer a unique concept to travellers. Usually people have between 10 and 45 minutes free time in the duty free area and that is where most of the food and beverage outlets are. But while they are generally coffee shops or fast food chains, we're the only five-star outlet that can combine luxury with speedy service.

Do people want such delicacies when they travel? Would they not rather eat something more substantial?

We have discovered that whenever people travel they like to feel healthy before a flight and so have a light meal. But they don't want to feel hungry, so we have had a lot of success in Terminal Three.

Where do you plan to expand next?

We are talking to a number of locations and partners but noting is confirmed at the moment. We have the franchise for the whole region, so as well as more outlets in Dubai and the UAE, we are also looking for suitable positions in Qatar, Saudi Arabia and Beirut.

Do you plan to go mainstream?

No. We are a five-star food brand so don't want to target the whole market. That being said, people may find us one day in one of the upscale malls or fashion avenues. Whenever you think of a five-star setting, we could be there. Airports have everything, luxury and non-luxury, but we offer something different. We could never be in a food court.
Keep up with the latest business news from the region with the Emirates Business 24|7 daily newsletter. To subscribe to the newsletter, please click here.
Follow Emirates 24|7 on Google News.