Going green will be a competitive advantage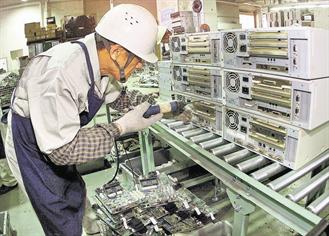 For decades companies around the world made money without caring for the impact their manufacturing processes, dumping of waste and used goods had on the environment. When electronics are dumped in landfills without first being processed to remove harmful substances present in them, these substances accumulate and pollute our water and food system.

It is estimated that 40 per cent of the lead in landfills originates from electronics disposal. Another estimate shows that 22 per cent of worldwide mercury consumption is due to its use in electronics.

However, over the years countries and consumers alike are becoming aware of the need to protect the environment and prefer green technologies and environment-friendly products over others.

This has made companies realise that it makes good business sense to focus on sustainability through eco-designs and eco-products, reduce hazardous materials and opt for responsible electronics recycling.

Mai Youssef, Corporate Communications Manager, Canon Middle East, told Emirates Business: "Today's consumers are more environmentally aware than ever before. We are increasingly finding that the environmental impact of products plays an important part in consumer's purchasing decisions as they try to reduce their carbon footprints.

"Conversely, the business community's priority remains cost saving and technological efficiency. We want more of the consumer's environmental consciousness to filter through at a business level. That's why our business proposition is to reduce energy expenditure and save costs at the same time."

Anil Kumar, General Manager, Personal Systems Group, HP Middle East, said: "Any action that promotes sustainable development and reduces environmental impact is in good business sense.

"As an industry leader in responsible supply chain management, the sometimes-higher cost of maintaining corporate environmental and social responsibility is negligible."

KW Kim, CEO, LG Electronics Middle East and Africa Regional Company, said: "Based on the internal system for corporate sustainable management, LG Electronics is looking to develop its organisation and systems and to strengthen its internal competencies so that the three focal points – economic profitability, eco-friendliness, and social responsibility – can be assured.

"We systematically manage risks by identifying and monitoring non-financial risks, such as the environmental and social issues of domestic and international businesses, as well as financial risks.

"We monitor communication channels in a more analytical way, relating to the parties concerned, and reflects their opinions and requests with regard to corporate policies and management activities more effectively.

"LG Electronics intends to build global leadership in and out of Korea by using its brand strategies in connection with corporate sustainable management activities."

Khalil El Dalu, General Manager, Epson Middle East, said: "In the long run, use of eco-friendly designs and products will prove extremely cost efficient, while also protecting our consumers and the environment."

In keeping with their decision to go green, the electronics giants have taken major steps to ensure that they are counted among companies that display a better ability to identify and manage material environmental, social and governance factors impacting the opportunity and risk sides of their business.

El Dalu said: "Since 1996, Epson has set a plan to manufacture products that feature eco design and eco products, making our products environment friendly.

"Epson's products are known for its low power consumption and their colours and components have been carefully selected to ensure that they are free of hazardous materials, thereby protecting the user and the environment. Our products are free of mercury, which is hazardous to users; and our products do not emit carbon dioxide. When using laser printers, all multifunction features are based on laser engine."

Taeko Danno, Deputy General Manager, Corporate Communication, Panasonic Marketing Middle East, said: "Panasonic was selected in The Global 100 Most Sustainable Corporations in the World in January 2009.

"For Panasonic, meeting legislation requirements on design, composition and recycling is only the starting-point of our environmental product requirements. For instance, with regards to chemicals policy, our requirements are way ahead of legislation. Our products don't just comply with all international legislation; we are also working to eliminate substances of concern to Panasonic, even where they are not legally restricted. For example, Panasonic has completely eliminated the use of lead or mercury in its Plasma television.

"We also have our own eco technology centre in Japan to ensure zero waste recycling called Petec. For Petec, for example, a broken TV is not just garbage. This is because the various materials that the TV is made from, such as glass and metal, are resources that can be used again. Petec removes these recyclable materials from end-of-life products and leverage them as materials to produce new products."

HP is also committed to reducing the energy consumption of its volume desktop and notebook PC families by 25 per cent by 2010 and expects to reach this goal through a variety of strategies. These include integrating such components as more efficient power supplies and lower-energy chipsets and other energy-saving technologies and processes across its volume PC portfolio, incorporating compliance with the Energy Star® 4.0 energy-efficiency specification – being better for the environment and helping reduce customer energy costs.

Anil Kumar said: "Additionally we reduce resource use and waste in the design, manufacture, packaging and transportation of our products. For example, packaging innovations for consumer notebooks have reduced the package size by approximately 25 per cent, allowing an increase in shipping density and reducing logistics costs and the subsequent environmental impact of products transported. Lastly, we continue to strive for material innovation and design for recyclability, with an increased use of magnesium and aluminium."

LG Electronics has established an environmental management strategy and a strategy to develop eco-products, and now supports various environmental protection activities.

The company also puts environmental management into practice by adopting an environmentally friendly mentality throughout the entire production process from the designing of a product, right through to its development and circulation.

Kim said: "The company is committed to carrying out the necessary research in order to discover more efficient methods of taking back and recycling end-of-life electronic products."

Canon also strives to make its products 75 per cent recyclable by mass (for re-use and material recycling) and 85 per cent recoverable by mass (including thermal recycling).

Youssef said: "We have invested our expertise in developing environmentally responsible products which reduce the use of hazardous materials in our products. For example we have lead-free lens, green calculators made from 100 per cent recycled material. Also through the adoption of technologies such as faster DIGIC II digital imaging processor and CMOS sensors, Canon has made advances in energy-efficient circuit design."





The Programmes

Canon: Canon Middle East has teamed up with Tecom Investments, a member of Dubai Holding, to reduce carbon emissions as part of its energy conservation programme. This partnership is part of an ambitious initiative to reduce carbon emissions by 1,338 tonnes annually.

LG: LG's Eco-Design strategy works to reduce the environmental impact of a product's development, production, and circulation while improving efficiency of resources, recycling, and reducing hazardous materials. LG adheres to strict requirements regarding the management of hazardous materials in its production processes. To address global climate change, LG is pledging to work to reduce greenhouse gases emitted both in the production process and over product's lifetime.

Panasonic: Under its three 'eco ideas' initiatives, 'eco ideas' for Products; 'eco ideas' for Manufacturing; 'eco ideas' for Everybody, Panasonic will produce energy-efficient products, increase the number of products with energy efficiency performance, eliminate products with low energy efficiency, reduce CO2 emissions across all its manufacturing sites by 300,000 tonnes by 2010.

HP: HP lab tests have found that configuring PCs with the optional 80 per cent efficient power supplies along with the other Energy Star 4.0 hardware requirements can reduce total system power consumption as much as 52 per cent, translating into an average annual cost savings ranging from Dh22 to Dh213 per PC.
Follow Emirates 24|7 on Google News.