hard times ahead for haute cuisine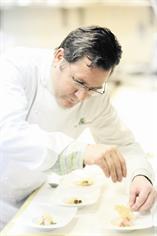 This is the metaphor that celebrity American chef Charlie Trotter uses to explain the effects of the ongoing recession – at least in the restaurant business.
Trotter, 49, is one of North America's most famous and successful figures in the culinary sphere, blending haute cuisine with business skills for 21 years. With an endless list of awards to his credit to dispel the popular notion that North America – particularly the US – is only about junk food, Trotter has a chain of restaurants across the US and is known for running the country's number one restaurant, Charlie Trotter's.
Trotter was among some of the world's best known chefs – from Japan to South America – taking part in Gourmet Abu Dhabi, a celebration of top chefs and culinary magic organised by the Abu Dhabi Tourism Authority.
Talking to Emirates Business, the chefpreneur says the recession has affected the entire restaurant industry but it could end with good results – separating the wheat from the chaff with only the deserving remaining in business.
"Definitely, it [the recession] has affected us. We've been around for a long time so we have greater stability – 21-and-a-half years for a single high-end restaurant is an eternity in this field. You just have to find ways to make it better and better; you cannot get comfortable, you cannot get too full of yourself, but find ways to push it forward.
"Yes, the American economy is not too good at the moment, but that is true for the whole world. We have to deal with it for the next three years. If I look at my little crystal ball, we will be in a recession for three years. It is going to be three ugly years. But the good thing about this is that it is like shaking an olive tree to allow the bad olives to fall and leave the good ones on the branches."
As a chefpreneur, Trotter says the quality of food is what makes all the difference. "Being a chef for more than 20 years, I have never – and would never – compromise on the food over anything when it comes to taking a decision," he said when asked if he had had to make any hard decisions that compromised the quality of food served at his establishments.
"I consider myself not just a cook but an entrepreneur, and as a business person you have to wear several hats these days. In times past, a chef would work his way up and finally get to a position to open his own restaurant and there he would be for 20 years with his signature dishes. These days, a successful chef has to juggle many things – you are a motivator; you are a psychologist; you are a coach; and definitely you are a businessperson.
"And then, of course, there are all these opportunities that exist for a chef today – being on TV, writing books, consulting for airlines, running multiple restaurants, developing products and so on, and still creating food."
Trotter has written 14 cookbooks, three management books and has hosted an award-winning cooking series, The Kitchen Sessions with Charlie Trotter.
Trotter did not come from a "food focused" family. His interest in food was developed while he was in college and his roommate, Joel Fish (who was an avid cook) would prepare various courses for his friends to taste. Trotter became interested in what Joel was doing, and soon found himself immersed in the world of cookbooks and preparing meals as a way of entertainment for his friends and roommates!
Midway through his college tenure, he took a year off to read every book he could – and made a living as a waiter. Upon his return to college (he graduated in Political Science), he began cooking once more and was soon catering small parties.
Trotter is completely self taught; he became a chef, he has said, because he so loved to eat.
He now runs or directs the operations of five eateries, including two each in Chicago and Las Vegas, and one in Mexico. Another is set to open in Chicago this year, with a New York debut in 2010.
About expanding his businesses and opening restaurants outside the US, including in the UAE, he said nothing was impossible and the UAE had potential. "[The UAE] is certainly an exciting part of the world, and I love the fact that there is such an international flavour here – people coming from different parts of Asia, from Europe and the UK, and from all over the West, including the US."
Charlie mixes business and family with equanimity. He opened his first restaurant, Charlie Trotter's, in 1987, bankrolled by his father, recruiting consultant Robert Trotter. Now his signature restaurant, it is run by his mother, Dona Lee. She was hesitant to join the team in the beginning, he says, telling how his mother quit her job as a lawyer to step behind the counter for him.
"I came back and opened a restaurant in my hometown of Chicago with my family. They are still there. My mom still works at the restaurant. It took her two years, as
she was frightened to come out of the courtroom. At first she would just stand there and at the end of the day people would give her a dollar and she would say 'no, no'.
I would tell her, just take the dollar and put it in the jar and we will give it to the team
of waiters!
"Now she has developed into somebody who can just come in and right away march to the table and interact with the team and guests. So it's kind of a family affair. The team is like a family,"
he beams.
Ask who does the cooking at home, and he says he hardly eats at home, as he always tastes the food at his restaurant for quality checks. And when he really feels like having a bite, it's usually a sandwich. "It was just my son and I at home. And now even he does not live with me. He is in France. So it is just me and my dog, and I do the cooking."
As a top chef, Trotter has been called upon to consult to industry – and most notably, has been involved with airline catering for United Airlines, for whom he created special menus in first and business class. However, the service was discontinued for a while after the September 11, 2001 terrorist attacks.
Three weeks after 9/11, we all got letters from the airline saying they were cutting costs and the first thing that had to go was the consulting chef programme. Five years later, they came back to us to say they needed to re-elevate the cuisines and we were the ones they wanted back. So we signed up for that."
Trotter says the big mistake airlines make is when they try to do something that is too complicated. "You don't have trained culinary personnel on board – it is only flight attendants, whose main concern is the safety of passengers. The food and service is an added thing in the airline business; the main concern is safety."
Speaking of which, the Charlie Trotter brand seems relatively safe now in the culinary firmament – one of the olives that will cling on and grow, despite all the buffeting the recession gives to the tree.
Follow Emirates 24|7 on Google News.
Imagine an olive tree laden with fruit. Then imagine the present global recession as a pair of arms giving the tree a vigorous shake, which results in all the bad fruit falling off, leaving the good ones to grow and ripen better.