KHDA justifies fee hike, says no change for three years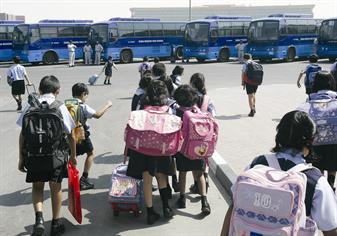 It is tough time for parents who are already worried about job security and how they will pay their credit card bills. But the decision by a leading school in Dubai to implement a mind-boggling fee increase of more than 100 per cent over the next two academic years has been the final straw.

Parents of children studying in Modern High School Dubai argue that the school originally asked to push up fees to cope with high inflation – but the inflation rate has since fallen sharply. And some are now forced to move their children to other schools.

Emirates Business spoke to a Mohammed Dariwsh, Chief of Licensing and Customer Relations at the Knowledge and Human Development Authority (KHDA), who said said: "KHDA has permitted Dubai Modern High School to restructure its fees.

"It is the only school in Dubai which is relocating this year so is unique in this regard. The school has subsequently announced a 90-per cent fee increase over the next two years. The school will not be allowed to impose any changes to its fees for three years after that."

He said the school is relocating because they are losing their current location in Al Safa due to real estate developments in the area. "They are moving to a site in Nad Al Sheba and they are classified as a relocating school with a capital investment that probably matches that needed for building a new school.

KHDA views relocating schools differently from existing or new schools. It analyses the investment by the school, the need for such an investment and the needs of the community and the parents. It then permits fee restructuring in order to strike an appropriate balance for all stakeholders." He added that KHDA thoroughly scrutinised the school's accounts before it made its decision. "When this happened the economic climate, as I said before, was indeed a different one," he added.

"The real estate development has forced the school, which has around 2,000 students, to build a new campus – failing which thousands of parents would have had to find another school. Additionally, the school was under pressure to relocate within a specific time frame – something they had to commit to in order to take advantage of the fee restructuring it had been permitted," he said.

"This decision is not primarily about allowing an increase, but about a return on investment by an education provider. Investment in the education field is long-term.

"Any return on investment usually takes 10-12 years, and sometimes even longer. We think that the new school with its improved facilities will give the pupils better opportunities during their important school years."

Meanwhile, Darryl Bloud, Principal of Dubai Modern High, also said the Knowledge and Human Development Authority had permitted the school to push up fees by 45 per cent in each of the next two years. He said the new fee structure would come into force after the school, owned by Gems, moves to the new campus at Nad Al Sheba.

The total increase will amount to more than 100 per cent because the 45 per cent rise for the second year will be calculated on the basis of the increased first year fees and not the current rates.

Angry parents say the school originally asked to push up fees to cope with high inflation – but the inflation rate has since fallen sharply. And some have decided to move their children to other schools.

"We are already paying through the nose for our children's education," said one parent whose youngsters attend Dubai Modern High. "The fees for a grade 12 student, which are currently Dh20,880, will go up to Dh30,270 in the 2009-10 academic year and Dh43,890 in 2010-2011.

"The increase is more than 90 per cent because for 2010-2011 the school is adding 45 per cent of Dh30,270, the revised fees, and not Dh20,880, the current fees. Because of this parents will have to pay more than 100 per cent extra for children from kindergarten one to grade 12."

Amit, a media executive, said: "I have two children in the school and this hike has come at the worst time. We knew school fees were going to increase, but not by 100 per cent. Everywhere it is downturn and economic slowdown and companies and employers are engaged in crisis management to overcome the crisis.

"I cannot go and ask my employer for a salary hike to meet the demand from the school. I will definitely talk to the principal and take my children out of the school.

"The fees structure is the same in other schools and there is no guarantee that they will not announce increases next year. However, I am sure they will not introduce a 100 per cent increase."

Amit said the increase was too much even for parents with above-average incomes. And his industry, the media, was in bad shape due to the slashing of advertisement budgets by companies and financial institutions.

Another parent said: "My two kids are studying in kindergarten one at Dubai Modern High. I am spending Dh28,188 per year for two kids which will go up to Dh40,860 when they reach kindergarten two and Dh67,040 when they reach first standard.

"Already we are spending about 20 per cent of our salaries on their education. Recently the school shifted transport to a private company, which increased the monthly charges from Dh250 to Dh600.

"The diesel price is now almost half what it was but the transport company keeps charging Dh600 per child. I can save money by putting my children in another cheaper school."

Another parent said she and her husband had no choice but to keep their children in the same school. "No doubt it is a good quality school but the fees hike is too much. The school previously denied media reports about plans for 45 per cent increases and advised parents to remain calm.

Parents received a circular dated January 22, 2009, from Bloud, who wrote: "We are delighted to inform you, after 20 years on the same campus, Modern High will make the move to its new state-of-the-art campus. Beginning next academic year, we will be able to provide students with a wide range of facilities that will further enhance the opportunities available for our students and teachers. The new campus located in the Nad Al Sheba area will feature exciting new facilities that include the performance centre, the music and multimedia centre, to name but a few." He said that "understandably" the move to the new campus implied an increase in school tuition fees, which excluded other costs such as transport, food, books and uniforms.

"Over the past several months we have worked to establish a tuition fee structure that strikes an appropriate balance between the needs of the parents, the community and the investment value of the new world-class campus," he added. "The first fee increase will come into effect from the time we move into the new campus in April 2009. We trusts that as parents you will understand the need to increase fees to these new levels to meet the investment cost of the new campus and growing operational costs.

"Given the present economic climate, if there are some of you who feel the present fee structure is not in step with your personal financing planning, the Gems corporate office may be able to provide places for your child in another Gems school. Alternatively, if for any reason, this is not possible, other alternatives will be discussed with parents."
Follow Emirates 24|7 on Google News.