Leisure marine market on path to recovery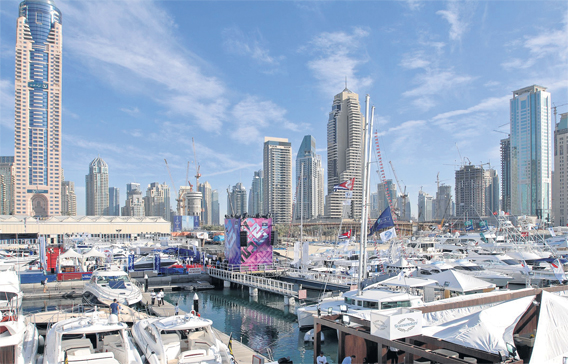 The global and regional leisure marine market is recovering slowly but surely, industry sources say.
"The über-luxury segment was never hit as there were no cancellations of orders for superyachts," Chrisopher Behne, Managing Partner of BehneMar, told Emirates Business. "However the mid-segment, which was hit globally, is now recovering. We have seen a lot of interest since January this year." Behne is one of the exhibitors at the Dubai International Boat Show (Dibs), that starts on March 9.
Erwin Bamps, CEO, Gulf Craft, agreed a recovery was under way. "Last year, even those with money were being very tight-fisted because of the uncertainty and insecurity brought on by the recession. However, a year down the line, people more or less know where the market is going, where the economy of their country is going, and how their company is doing.
"They are no longer afraid to spend. Of course they are not spending the way they were two years ago, they are still thinking a lot and are taking longer to make their decisions, but they are spending. The uncertainty is going out of the market and we are seeing a recovery."
Further proof of this comes from the fact that this year's boat show, which is taking place at the Dubai International Marine Club, will be larger than the last edition.
Trixie Loh, Senior Vice-President, Dubai World Trade Centre, the event's organiser, said: "Last year was tough for the leisure marine industry in the UAE as it was tough on the industry globally. However, confidence is coming back to the market and the small boat and mid-size segments are seeing a surge in demand. Last year we had only four world exclusive premieres and 22 regional launches, but this year more than 400 boats will go on show and there will be 15 world exclusive premieres and 25 regional ones.
"Last year, we only had 19 participating superyachts but this year there are 27, including 26 boats in excess of 21m. The show has witnessed an incredible 36 per cent increase over last year for this key sector.
"Coupled with this, consumers in the UAE are increasingly bullish about the first half of 2010 with consumer confidence recording a dramatic 187 per cent rise in an index recently published by MasterCard."
The show, which is being held for the 18th time, attracts exhibitors and buyers from around the world. Bamps said: "Of all the yacht and boat shows in the region, this one is the most global and features on the world map. Most of the other shows have people coming in from their own countries or from the region.
"But Dibs attracts people from as far as the US, India, Russia, Germany and Austria. Of course there is a strong regional representation with people coming in from Kuwait and Qatar. This is because, Dibs is more diversified as it caters to a larger audience in the leisure marine business.
"You can buy a small boat or a superyacht here. As the product offering is very diversified, it brings in people of all pocket sizes and from all around the world as it has something for everyone."
Behne added: "The show attracts visitors from all over the world as it has such a diverse offering. Also, the regional market is growing as the culture for marine activites is still growing and that's why the industry is so bullish about this market.
"For instance, Dubai has more to offer than the Carribean because of its modern marina facilities – both complete and under construction – perfect weather, comfortable and interesting cruising areas, exceptional restaurants, resorts and retail offerings."
Keep up with the latest business news from the region with the Emirates Business 24|7 daily newsletter. To subscribe to the newsletter, please click here.
Follow Emirates 24|7 on Google News.