Noor Dubai restores sight for 30,000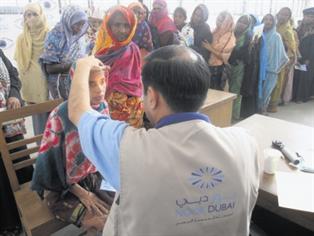 Noor Dubai, the UAE-born charity initiative focused on preventing and treating low vision and curable forms of blindness around the world, treated around 30,000 people of all ages last week in Sudan and Bangladesh at its free cataract treatment camps.

These camps witnessed remarkable treatment records by undertaking more than 3,000 surgery in one week.

Qadhi Saeed Al Murooshid, CEO of Noor Dubai and Director General of Dubai Health Authority, said Noor Dubai camps are witnessing overwhelming response from patients of all ages at many remote areas across the world.

He said the camps have helped restore the vision of 30,000 people in Al Obiadh in Sudan and the Tanguila region in Bangladesh.

Of those, more than 26,000 men, women and children were treated with medication and prescription eyeglasses funded by the initiative; an additional 3,200 were identified for surgery, with priority given to those with cataracts in both eyes and those in advanced stages.

"Noor Dubai has succeeded in dealing with critical humanitarian concerns of people of all ages who were unable to get the right treatment. The Noor Dubai surgical team worked two six-hour shifts every day, completing an average of 400 successful surgeries daily," Al Murooshid said.

"Every one of these surgeries represents an improved life, and we are privileged to be able to offer this treatment."

Noor Dubai's camp in Al Obiadh screened and treated more than 16,000 patients and achieved around 2,000 surgeries.

Those treated include people as young as three-year-old to a 110-year-old woman. The oldest patient treated at the Tanguila camp was a 85-year-old man with mature cataracts, whose vision had been reduced to light perception only; the youngest was a 20-years-old girl with congenital cataracts and severe vision deterioration.

Both patients were treated successfully.

Noor Dubai's camps are the latest cataract camps to be held in developing countries.

Recently, successful camps were also held in Sudan, drawing 14,000 individuals; Pakistan, with 12,000 patients; and Sri Lanka, drawing 14,000 patients and Yemen 11,000 patients. Eye camps will also be held in Chad, Niger and Nigeria in coming weeks. Another Sudan camp will be organised by Noor Dubai in the coming days.

Noor Dubai, launched by His Highness Sheikh Mohammed bin Rashid Al Maktoum, Vice-President and Prime Minister of the UAE and Ruler of Dubai, in September 2008, has set a target of treating more than one million patients in its first year, via free treatment camps in Dubai, Bangladesh, Pakistan, Sri Lanka, Sudan and Yemen.

Closer to home, Noor Dubai has also given the gift of full vision to more than 800 patients from Palestine, Iraq, Sudan, Jordan, Mali, Egypt and Syria and across the GCC, flying individuals from their home countries into Dubai for treatment at Dubai Hospital and other city facilities. The initiative is also working towards establishing an eye camp in Gaza to treat children and adults with preventable blindness and visual impairment, and those whose vision was affected during the recent conflict.

In coming weeks, the initiative will also move more into its second and third phases, focusing on prevention, education and awareness.
Follow Emirates 24|7 on Google News.