Special needs kids take Magic Bus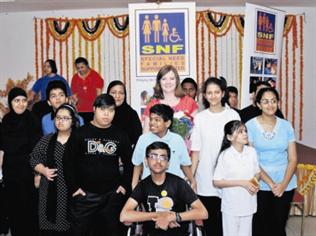 Children from the Special Needs Families, support centre are holding their annual concert on February 6 at the India Club.

Titled The Magic Bus, the concert will give 25 children with special needs the chance to showcase their talent on stage and all are invited to go and witness this show and encourage the children.

Safia Bari, founder, Special Needs Families (SNF), told Emirates Business: "We began our centre in 2007 and as the time went by I realised that the children with special needs miss out on the activities that their siblings do at the mainstream schools and they feel left out.

"For example children in mainstream schools have exams, sports days and concerts etc which they talk about at home. When the special chidren hear them talking they feel left out. So I decided that the children at my centre shall lack nothing and will do all the things that other children do.

"So I began with announcing "exams" for them. They were just their usual activities but the fact that they were having exams got our children very excited and gave them a tremendous feeling of importance and inclusion.

"In fact, their mothers were also very excited about it and some of the children came to the centre that day with their hair neatly braided and with new pencil boxes, etc. We also hold a sports day for our children each year where we give them simple activities to do which they can accomplish with ease.

"We hold personality enhancement programmes for them as we want them to have as inclusive and normal a childhood as possible so that they don't feel left out when their siblings talk about their school activities at home. This concert is also a part of the same exercise."

The Magic Bus is a musical where all the children from the centre will get the chance to dance and sing and act. The children have been practicing for the concert for the last two months and now as the time for the show nears hectic preparations for the show are on.

Bari said: "We were teaching them about the seasons so we decided to centre the concert around that. In the concert the children get aboard a old bus and the driver takes them to fabulous places where they have different adventures."

Some of the children are also giving solo performances.
Keep up with the latest business news from the region with the Emirates Business 24|7 daily newsletter. To subscribe to the newsletter, please click here.
Follow Emirates 24|7 on Google News.