Take your seats for a classic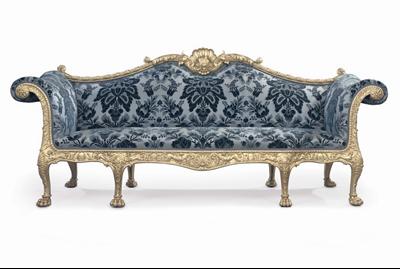 Anyone who is on the lookout for hard-to-come-by Chippendale furniture then Christie's forthcoming auction of Thomas Chippendale's work in London could be of interest. The head of the International Furniture Department at Christie's Robert Copley told Emirates Business: "On June 18, Christie's will present a sale of 12 masterpieces of furniture, the most significant auction of 18th century English furniture ever offered to the market.
"The sale is led by five works by Thomas Chippendale, including The Kenure Cabinet, the Dundas Bookcase and the Dundas Chairs."
The most famous cabinet-maker in the world had humble beginnings. He was born to a carpenter father in Yorkshire, England, in 1718, but went on to become a furniture designer for British aristocracy. One of the greatest reasons for his success was that he did not limit himself to furniture-making and advised his clients on soft furnishings and even the colour a room should be painted in. The reason furniture created by him has lasted three centuries is that he always used solid woods, not veneers, to make his furniture because of the deep carving and details he used. Most of his creations are in mahogany, his favourite wood.
So well known did he become in his lifetime that a book written by him, and illustrated with examples of his work, titled the Gentleman and Cabinet-Maker's Director, served as a kind of catalogue for the wealthy. The book was reprinted several times and is considered by many to be the most important collection of furniture designs ever published in England.
Three centuries later, Chippendale's furniture is highly sought after and original pieces that were created for a few hundred dirhams now sell for millions.
So much so, that his style of furniture is widely copied and sold to unsuspecting buyers as "original Chippendale furniture".
Obviously, the furniture being auctioned at Christie's is the real thing and the pieces on auction include The Kenure Cabinet, the Dundas Bookcase and the Dundas Chairs. Copley said: "What is unique about the Dundas Chairs is that they represent the only collaboration between the architect and designer Robert Adam and the most famous cabinet maker in the world, Thomas Chippendale.
"These are examples of "palace furniture" on a domestic scale as they were made for Sir Lawrence Dundas in 1765, who lived next door to The Ritz in Arlington Street, London. These cost Dh146 each, twice as much as any other chair by Chippendale."
Christie's sold another pair from the same set in 1997 for Dh12.3 million. The present pieces are expected to fetch over Dh11 million to Dh18m when they are auctioned in London. The sale will include from the same suite a sofa estimated to fetch Dh6m to Dh9m. Copley continued: "In 1764, Chippendale supplied a magnificent bookcase to the same house in Arlington Street. Even though originally it cost Dh582 now it is estimated to fetch Dh11m to Dh18m at the auction. It has never been offered at an auction before."
Another magnificent piece going under the hammer is The Kenure Cabinet, made in the late 1750s, by Thomas Chippendale.
Copley elaborated: "This is one of the most important pieces of furniture from Chippendale's workshop, of fantastical design, made for the display of oriental ceramics.
"It is, quite simply, the finest example of his craft ever to appear at auction, and is expected to realise between Dh18m to Dh29m, making it perhaps the most expensive piece of British furniture ever to be sold at auction."
Giving an insight into why Chippendale furniture goes for such huge sums Copley said: "Objects of this importance, particularly by Thomas Chippendale, very rarely come up for sale.
"In the light of the Dh330 million achieved last year for the private sale of Dumfries House, and its contents (much of which was by Thomas Chippendale), a thirst for Chippendale furniture was identified and it remains as yet unquenched."
Follow Emirates 24|7 on Google News.