Tecom executive helps bring drinking water to Ghana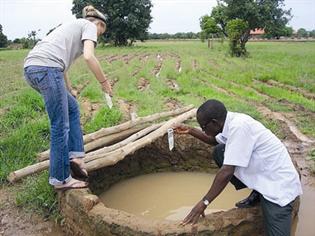 Vanessa Green, Manager of Strategy and Business Development for Engineering and Environment at Tecom Investments' Strategy and Excellence Division, volunteered her expertise in water management to the Community Water Solutions (CWS) project, an initiative that seeks to bring clean water to the developing world. Green was in Ghana recently to help provide safe drinking water to rural communities.

When Vanessa first visited Ghana in January 2008, she was shocked to find that the villagers' main drinking water sources were shared with livestock and other animals. The drinking water was hence highly turbid and microbially contaminated. Vanessa returned to Ghana in June 2008 to develop a pilot commercial water treatment model in Kasaligu village of Ghana, benefiting a population of over 1,500.

Despite Vanessa's many projects in Dubai, Tecom Investments sent one of its brightest executives to do volunteer work in Ghana. Tecom's CSR initiatives include encouraging their employees to apply their expertise to help those less fortunate.

Sanjive Khosla, Chief Strategy and Excellence Officer, said: "As an organisation committed to individual development and socially responsible initiatives, Tecom Investments is immensely proud of Vanessa's work in Ghana. Her character embodies the spirit of volunteerism that we try to instill in all our employees. Her selfless dedication to this worthy cause sets an example for us to get involved in community-related work in rural areas."

Vanessa and CWS' most recent activities in Ghana aim to build on the previous work and reach another 200 households. Vanessa will be in charge of refining the water treatment system and safe storage container manufacturing to help the CWS team reach the goal of providing clean water to 10-15 villages over the next 12 to 18 months. CWS has enlisted her support for the marketing and supply chain components of the project.

Vanessa said: "My first trip to Ghana opened my eyes to the unimaginable conditions the people of the region had to endure on a daily basis. Simple things such as clean water and a safe living environment that many of us take for granted, are inaccessible to the majority of the population in that country.

"As an engineer with experience in household water treatment technologies, I felt compelled to return to Ghana and work with the villagers to develop sustainable community-level water treatment systems that they could use to clean their drinking water."

Vanessa joined Tecom Investments' Strategy and Business Development Department after completing a Masters degree in Civil and Environmental Engineering from the Massachusetts Institute of Technology (MIT) in Boston, USA.
Follow Emirates 24|7 on Google News.