A cool business venture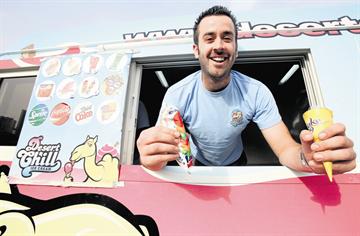 Ice cream vans may have been clocking up the kilometres in the United Kingdom for the past 80 years – thrilling children up and down the country as the bells played in their street – but the concept never quite made it to Dubai. That is, until now.

British expat Dan Furlong, 26, who introduced the cool concept to the streets of the emirate says the business has whipped the expat population into such a frenzy that there are even web forums about it, with fans listing sightings so other people know where to find them and when.

The entrepreneur from Essex says the idea came to him during a trip to Dubai to see his parents in 2007.

"A holiday turned into a long-term arrangement because I saw the gap in the market," says Furlong, who runs Desert Chill with his brother Nathan.

"They were popular in the UK and because there are a lot of expats here and the weather's so hot, it's the perfect setting for the business."

Having completed an events management degree at university in the UK, Furlong took a job up in the field when he moved to Dubai. Then, three months later, he decided on a career shift and Desert Chill was born.

Furlong says business is thriving, especially in many of the city's gated communities such as Arabian Ranches and The Springs, where the company's vans make their daily rounds.

He says he is now eyeing sporting events, including the Dubai World Cup later this month. "The business is most popular at the Rugby Sevens and at the events held at Dubai Autodrome but I think we will be quite popular at the Dubai World Cup too," he says. "We are only three months old so it's obviously still in its early stages although it has taken off massively," he says.

Furlong credits fellow entrepreneur Duncan Bannatyne as a great inspiration. The businessman who appeared as an investor on BBC TV show Dragon's Den, where aspiring entrepreneurs vie for cash to fund their ventures, was himself a successful ice cream van owner in the UK. In fact, it was one of his earliest business ventures and set him on the road to becoming a multi-millionaire.

"I used to work for Bannatyne's health club so have known about him for a year plus. I'm also a massive fan of the show. He started with ice cream so if he can do it then why can't I?" says Furlong, who currently employs five staff to work in his three specially converted vans.

Although the business model might seem rather simplistic, the entrepreneur says he needed much more than just confidence in his idea. Getting it off the ground was challenging, he recalls, and it took more than a year for his vision to become reality.

"It was mainly because of the hidden taxes that a lot of people don't know about in Dubai," he explains.

"It was also difficult to get a licence as there were many hurdles to overcome. And then we had to get a local sponsor."

The Furlong brothers are now plotting their next move, and plans are being drawn up to expand the business outside of Dubai.

"I want to get another van or two on the road then expand the business into Abu Dhabi, Bahrain, Kuwait – anywhere there is a desert," says Dan.

"I have no plans to move away from Dubai, I'm really enjoying it."


The history of the ice cream van

Although details of how ice cream vans started out are patchy, evidence suggests the wheels of motion began in the early 1930s, 10 years after Walls started using bicycles to transport ice cream from its factory in London. Prior to this, ice cream was sold from push carts and horse-drawn wagons. The van concept took off after the Second World War ended with the 1950s proving a turning point as family fortunes recovered and new housing estates in Britain provided a steady stream of customers. Early vans used dry ice to keep ice cream frozen meaning the engine always had to be switched off when it stopped for sales but now they operate electronically. The old-style hand bell to announce a van's arrival has also been replaced by the familiar chime music played, which inevitably sends children into a spin the world over.
Follow Emirates 24|7 on Google News.