UAE readies law on emergencies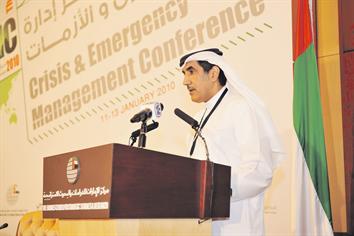 A draft federal law setting out procedures for dealing with major emergencies has been drawn up and is about to be submitted for approval, a senior official revealed yesterday.

"We have finished the draft law and will refer it within days to official bodies in the country so it can be approved," Mohammed Khalfan Al Rumaithi, Director- General of the National Crisis and Emergency Management Authority (NCEMA), told Emirates Business.

Al Rumaithi said the draft contained clauses that defined crises and disasters, set out the duties of each government and non-government body and described ways of co-ordinating their responses.

"The concept of crisis is not restricted to wars and disasters, it also includes financial and economic crises," he added.

"The law determines ways of dealing with such crises. We would face huge responsibilities, and this makes it necessary to introduce plans and strategies for tackling crises and dealing with them in the future to alleviate their impact and the threat they pose to the public."

The draft divides the management of a crisis into four phases. The first involves making preparations and ensuring effective cooperation and joint action. Next comes a phase during which precautions are taken, and this is followed by a crisis confrontation phase and a final phase in which the former conditions are restored.

NCEMA sought help from experts from many countries while drawing up strategies to deal with crises and emergencies.

Al Rumaithi said construction of the authority's main operations centre in Abu Dhabi would be completed within six months. The base would be fitted with the most modern communication equipment and would assist cooperation among government bodies concerned with crisis management.

NCEMA, which was set up in May 2008, is currently completing the development of its administrative structure. The authority played a major role in coordinating action to combat swine flu.

The UAE was among the first five countries in the world to obtain a vaccine against the disease. By the end of 2010, the number of imported vaccination doses will top two million.

Al Rumaithi said it had not yet been decided whether vaccination against swine flu would be compulsory.

"This issue is a matter for the Ministry of Health. We brought in international experts, including some from the World Health Organisation, to help us fight the disease. We managed to contain the disease and there have been no new dangerous cases in the past month-and-a-half." He said NCEMA was making continual efforts to protect UAE Nationals and expatriates from any emergency and protect the UAE's many major achievements by coordinating its operations with official bodies across the country.

Al Rumaithi was speaking on the sidelines of the three-day Crisis and Emergency Management Conference, which is being staged by NCEMA at the Emirates Centre for Strategic Studies and Research in Abu Dhabi.

He said the conference was an opportunity to draw on the experience of international experts in crisis management. And he said the GCC had not abandoned plans to set up a regional centre to deal with disasters, crises and major accidents.

"The GCC states agreed that they would set up national centres first in their home countries. Later it will be easy to set up a GCC centre linking up all the national centres."

Ahmed Butti Ahmed, Director-General of Dubai Customs, said the most serious threat his department had faced was a power cut that disrupted its electronic systems.

"This crisis was overcome, which led to the speedy clearance of goods," said Ahmed. "Dubai Customs plays its role in the framework of ministries, federal bodies and government departments because there is only one goal – the protection of people, society and the economy."
Keep up with the latest business news from the region with the Emirates Business 24|7 daily newsletter. To subscribe to the newsletter, please click here.
Follow Emirates 24|7 on Google News.