Drive into infinity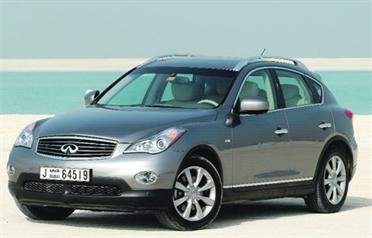 Although they have the same engines as Nissans, Infiniti motors are always easier on the eye. Whether it's the alloy wheels, or the fact they don't have the "Nissan" badge, there is simply something more appealing about them.

Infiniti is Japan's fastest growing luxury brand, and as such they must be doing something right. But its latest model, the EX35 – the baby sister of the popular FX35 – does not live up to my expectations. It looks great with its 18-inch wheels and sleek lines, which have helped it win numerous awards for best in class, but the engine failed to tick every box, mainly because it is heavy on fuel consumption.

Infiniti says the EX35 is inspired by a coupé but it seems a strange influence given it not only has four doors, but being a crossover, is not the low sporty-looking car a coupé normally is – something Infiniti does well with the G37.

In line with previous models, the EX35 looks good both inside and out and comes packed with gadgets — something the Japanese do very well.

The stitched badge detail on the seats and foot rests seem David Beckham inspired, making it feel that little bit more luxurious.

The leather seats are also supremely comfortable yet no matter what position I put the driver's seat in, rear visibility lets the car down. Despite being higher than other cars, the small windows in the boot area are incredibly difficult to see out of making the blind spot bigger than it needs to be. The Around View Video System, made up of four cameras, was therefore an essential tool when reversing, all of which is displayed on the GPS display screen.

The GPS itself is straightforward to use, belying the multitude of buttons. It certainly came in handy as I attempted to navigate the easiest – and least congested – route back to Dubai at 8am one morning. New destinations are simple to programme and a colour-coded system makes for easy visibility on the move.

This is a good car and packs an impressive 314bhp but it only has a five-speed transmission when I thought it would have six. It was also very loud when accelerating quickly and reaches 100km/h in a speedy 6.3 seconds. As the luxury arm of Nissan, I thought this would permeate every aspect. Surely a high-end motor of this level should be on the quieter side. In a Lamborghini it's part of the package, but not here.

But this car is not all about noisy acceleration; it is just as efficient when coming to a stop. It has a number of built-in features to make it safer, such as brake assist, which applies maximum force for a potentially shorter stopping distance, while the anti-lock brakes prevent you skidding.

The car also comes with the same 3.5-litre V6 engine as the G35, which makes for pretty mechanics, yet I didn't always think it was transferred to the drive. Cruising is great and the cruise control facility easy to master and on the highway is when the vehicle comes into its own.

Space is also an advantage. The front, back seats and boot all have lots of it – but not as much as other models in its class. And having the driver's seat move into position when you start the car and reclining when switched off is also a nice touch.

However, fuel efficiency is a drain on this little motor. It takes a huge 17.6 litres to drive 100km in the city, lowering to 12.2 litres per 100km on the highway. Yes, it's a heavy car but I could see myself making more trips to the petrol station than if I was driving other cars in its class. But with fuel prices low in this part of the world that's not a huge area of concern.

Now is a great time to buy because of the Dubai Shopping Festival deal available at the moment. Local dealer Arabian Automobiles will pay Dh12,000 towards the down payment (total cost is Dh157,000), plus a year's free insurance and free service contract for two years or 35,000km.

Given the UAE's desire for bigger motors and those that veer towards the top-end of the market, I'm sure the EX35 will do well in this region. While there are still more of the larger FX35's on the roads, its baby sister will no doubt catch up in time.

There are reasons that make this car appealing – notably its exterior looks – the downsides of high fuel consumption and poor visibility are, however, enough to put me off buying one for now.


The Rivals

Mazda CRX

Good styling and performance are let down by a lack of mod cons, such as GPS.

Nissan Qashqai

Of the same vein as the EX35, the Qashqai also has poor visibility but is very comfortable.

Ford Edge

The Edge has a spacious interior and handles well but is not very powerful.
Follow Emirates 24|7 on Google News.