Ford flexes its muscles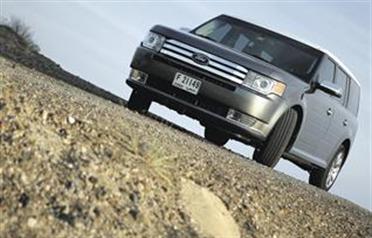 With a name like Flex, I would expect the car to be, dare I say it, flexible. One that can be taken anywhere and adapts to the surface quickly and takes it all in its stride making it a simple and easy car to drive.

So, imagine my surprise when I discovered that Ford's latest vehicle can't go off road and despite its size and impressive exterior, its not a flexible car after all.

In recent years, six-passenger crossover SUVs have become ever more popular with mums and dads looking to feel a little more stylish while transporting their broods. If this is the intended target market then it's no wonder I found it bulky, brash and not a lot of fun. Aside from looking like a Hummer, the Flex has also seemingly borrowed design points from other cars and adopted the current fashion of painting the roof a different colour to the body.

Although it looks very solid with its three-bar front grille and boxy lines, it isn't, in my opinion, a winning design in the aesthetics department. On the inside, it feels very spacious, thanks in part to the large windows and four sunroofs, or to give it it's official name – the mutli-panel Vista roof. In addition, it has an "all-black greenhouse", which helps tie the colours together while maximising visibility.

Ford has also built six seats set over three rows – but seven are available – which provides much more room. The plush leather seats, which were supremely comfortable even after sitting for hours in keeping with one of the highest-quality interiors we've seen from Ford in a long time, replete with plentiful soft-touch surfaces and an expensive-looking design.
The ability to change the interior lighting colour on the dials, front cup holders and footwell, is a fun quirk, so whether you prefer pink, green or one of the other five options, the LEDs are ready to alter at the touch of a button located in the driver's central armrest adding a nice touch at night.

The back row folds down creating a much-needed larger boot area given the limited space when the seats are full. It also has convenient push button features on the key fob and inside the boot for easy opening and closing.

Despite these aesthetic features, the gears let it down. Even if cars have automatic transmission, many still have a manual option – but not here. Its automatic is fine for day-to-day driving but sometimes, whether you're on rocky terrain or just need extra torque, you need to control the gears manually. I know a lot of people in the UAE don't have manual licences but for those of us who do, I like to know it's there if I need it especially because it helps the car become more responsive. It does, on the plus side, have all-wheel drive rather than two-wheel drive so has more grip but I'm still struggling to understand its purpose. I liked the drive and with a 3.5-litre V6 engine, it has a good-sized engine. The Flex also comes with 262bhp and 248lb-ft of torque at 4,500rpm, which all make it look good on paper.

On these pages we often talk about the need for road presence and the Flex has it. Its bulky size helps to keep other cars at bay yet because its not a 4x4 is still low enough to the road for easy access.

The Flex was the first Ford car to incorporate its exclusive Sync system – a voice activated hands-free communication and entertainment device. Getting started took a while and we had to resort to the manual in the end but eventually we got the iPod going through the 10-speaker 700 watt Sony system. I'm sure it could have been easier – in other cars iPods and other such devices are plug-and-go – but perhaps if I'd had longer than three days to drive the car I'd been able get to grips better with Sync and use it to its full advantage.
Other gadgets include a mini fridge inside the rear console, which keeps perishables cool while driving and a capless fuel filler, which provides a better seal to reduce smog-forming vapours. Given the Flex uses 14.7 litres for every 100km driven in the city and 10.7 litres per 100km on the highway, it's a step in the right direction.
It's hard to predict whether the new Flex will be a success, but Ford deserves credit for boldly bringing such an unconventional yet well-thought-out offering into the marketplace.

And in the same way the unusual-looking FJ Cruiser proved immensely popular, this might appeal to those looking for something a little different.

In theory, the Flex should appeal to any family looking for a winning combination of panache, practicality and reliability. We suggest that consumers looking at either a minivan or a large crossover SUV give it strong consideration.

Having said this, it remains to be seen whether the off-road enthusiasts of the UAE will want such a large car that can not be driven in the desert.


The Rivals

Chevrolet Traverse

Sleek styling inside and out makes the Traverse aesthetically appealing and the powerful 3.6-litre 286bhp engine will only add to its salability

Hyundai Veracruz

The Veracruz, like the Flex has third row seats in adult size, adding to its appeal. Like all Hyundais, it is great value for money and runs well in this climate

Honda Pilot

In the same engine range with 3.5-litre V6 specs and 250bhp, the Pilot looks tougher than the rest but is not easy on the eye yet good fuel economy will win some over
Follow Emirates 24|7 on Google News.