Golden Oldies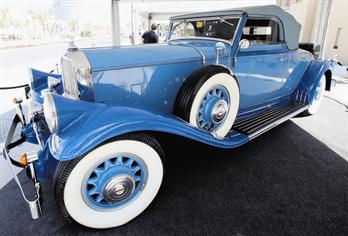 Burj Dubai Classic Show 2009 Award Winners
The Burj Dubai Classic Car Show 2009 that concluded last week gave car-crazy Dubai a glimpse of an era when cars were crafted seemingly on an artist's easel rather than in wind tunnels. The panel of judges from the Federation Internationale des Vehicules Anciens agreed with us in the main when they selected the best vehicles.

- 1931 Pierce Arrow Convertible RoaDster: Best Pre- Second World War. Anyone seen in this car in any age can only be thought of as somone with taste.

- X1921 Ford Model T Touring: Public Choice. With a permanent crowd of admirers, it's no wonder this car was voted the favourite.

- 1959 Ford 500 Skyliner: Best American car. Very, very few of these are in existence and this one has been maintained in mint condition. 

- 1967 Ford Mustang: Burj Dubai Classic Car. This multi-award winning car was tipped to add another trophy to its heavily feathered cap. It did.

- 1955 Blue Mercedes SL 300 Gullwing: Best Heritage Car. If you argued that this Merc was not the world's first "supercar", you would lose.
Follow Emirates 24|7 on Google News.