Mixed E-motions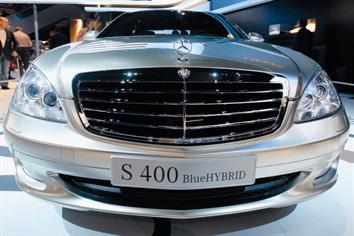 Only a decade ago the term "hybrid" was limited to the vocabulary of horticulturists. But, despite the fact that drivetrains combining electricity and steam or petrol have been around since the turn of the last century, it's only in recent years that the word has gradually found its way into "everyday speak", thanks primarily to Toyota and its innovative Prius, although the technology has also appeared in the Camry and Highlander.

While some carmakers, such as Volkswagen, are concentrating on clean diesel technology, other manufacturers, such as Lexus with its "h" variant of the RX SUV and GS sedan, Honda with its hybrid Civic, Jazz and new Insight, GM with its 5.3-litre full-size Tahoe hybrid SUV, and now Mercedes-Benz with its S400 BlueHybrid luxury sedan (using a battery technology shared with BMW), are taking the combined petrol/electric drive system seriously as, at least, a partial solution to the greenhouse gas debate.

The drive in popularity is the result of several factors, mainly led by the US market: The price of oil and the knock-on costs of running a large vehicle, which has been exacerbated by the global economic crisis and will continue to have an ever greater effect; the jingoistic desire to reduce dependency on the Middle East; and the sincere concern about greenhouse gases and levels of air pollution.

The popularity has also been helped by "green" celebrities including US actor Will Ferrell who swears by his eco-family mover. "I absolutely love our Prius. In addition to being obviously economical and environmentally friendly, they drive great and are just plain sexy," he has said. Whether you agree with him or not, there is no doubt celebrity endorsements count for manufacturers.

However, the enlightenment in the US at least may have come too late with the big three, Ford, GM and Chrysler, stumbling headlong into gas-guzzling oblivion and now lacking the resources to continue their bread and butter manufacturing, let alone pursue their alternative programmes.

It would seem that none of the CEOs saw the 2005 KPMG survey of 140 auto executives in which 88 per cent said they expected gas-electric hybrids to gain market share. Moreover, there was a belief that sales of hybrid cars and other fuel-efficient models, would outpace sales of SUVs, pickups and luxury models by 2010. While each of the Big Three have been investing in alternative technologies, the dinosaur mentality of these automotive giants has meant that progress has been painfully slow, and they have been playing catch up with their oriental competitors whose hybrid systems are so much more integrated in their manufacturing processes.

So what is the advantage of hybrid drives? As opposed to the fuel cell or hydrogen vehicle the hybrid doesn't require a dedicated infrastructure of charging stations throughout the region in order to run it every day. The hybrid generates and stores its own electricity when you are using the petrol engine (under acceleration or cruising at speed) or under braking (using resistance in the motors both to slow the vehicle down and to generate charge), and then propels the vehicle with the aid of the stored electricity when moving at slower speeds, for example driving in and around town in traffic where typically fuel consumption and pollution is higher. The excess electricity can also be redirected to systems such as the air conditioning.

This is all good news for the UAE where commuting is a very fuel intensive "pastime", where air conditioning can account for 10 per cent of fuel consumption, and where an alternative fuelling infrastructure would take several years to establish effectively.

But just how many of these hybrids are making it to this region? And who is buying them? A cursory trawl around dealers will leave you somewhat frustrated if you are after one: they are less popular than diesels.

You do occasionally see a Lexus RX h or a Toyota Prius, but for the most part they will be private imports. This is because the economic imperative prevails: Petrol is too cheap for most people to warrant the extra few thousand dollars the hybrid system adds to the pricetag. The length of time it would take to recoup the cost in fuel savings is so long, that it is no incentive. And people still look at hybrid technology as new and untested.

So, the demand in the region will primarily come from conscientious individuals who want to play a part to reduce global emissions. However, just looking at the lack of vehicles in our showrooms suggests global carmakers don't perceive the demand for hybrids to be enough to warrant campaigns.

But inroads are gradually being made by both the Japanese and, finally, the Americans. The Roads and Transport Authority (RTA) in Dubai, for example, has been testing hybrid Toyota Camry and Lexus LS600h cars in their taxi and limousine fleet. It has also recently taken delivery of a fleet of hybrid Chevrolet Tahoe SUVs and Malibu sedans for 12 months. If the trials are successful then Toyota/Lexus and Chevrolet will consider supplying them to dealerships. In fact, the Tahoe Two-Mode Hybrid is the only hybrid vehicle you can currently purchase from the showroom, but while it promises 50 per cent less fuel usage, it still guzzles more than 11 litres per 100 kilometres – as much as a standard 2.4-litre Camry.

Other major manufacturers with plans to introduce hybrids include Mercedes-Benz whose S400BlueHybrid luxury sedan – currently the only hybrid in its class – will appear here in August. A hybrid BMW X6 is also planned for the fourth quarter this year, while the converted 7 Series is due in 2010.

Nissan, on the other hand, prefers to drive down the electric vehicle route with plans to mass market a range from 2012, while Kia has been working with a US-based company on hydrogen fuel cell models, having developed a hydrogen Sportage in 2005. By 2010 they will have invested Dh855 million in production of commercial hybrid vehicles as well as developing HEV cars after the South Korean Ministry of Environment disclosed plans to promote their use with tax breaks.

In the meantime, Porsche is working on hybrid versions of its Cayenne and the new Panamera, although both launch dates are not even pencilled in the diary.

So, if you're a keen environmentalist and you need a vehicle, or if you already drive a large vehicle and just want reduced fuel bills, I'm afraid that unless you want a 6.0-litre full size SUV, then you basically have no choice.


Celebrity fans

There is a lot of currency for Hollywood's A-listers to be seen driving an environmentally friendly car in the current eco-aware climate, which just goes to show how time and trends in American motoring have changed since the big-block behemoths of the 1950s, 1960s and 1970s.

If there's one thing guaranteed to get a US celebrity on Oprah, it's owning a hybrid.

The likes of Tom Cruise, pictured right, Alicia Silverstone, Billy Crystal, Brad Pitt, Cameron Diaz, David Duchovny, Ellen DeGeneres, Ewan McGregor, Harrison Ford, Jack Black, Leonardo DiCaprio, Robin Williams, Salma Hayek, Susan Sarandon and Tom Hanks have all jumped on the hybrid bandwagon. Given this, it's no surprise that the cult of celebrity is causing many ordinary Westerners to seriously consider such a purchase – even though the initial price tag of one is invariably higher than the standard petrol equivalent.
Follow Emirates 24|7 on Google News.