New bikes to fuel Dubai riders' need for speed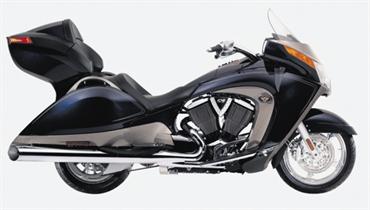 We have had two whole months of winter now and the weather has turned just the right side of glorious for motorbiking. The owners of all those projectiles on two wheels in the region who hibernated while the sun was scorching the Arabian sands have had a chance to throw the covers off their steeds and stretch their tyres.

It's time for the Gulf Bike Expo and some serious riding with the year's new models for motorcycling enthusiasts. Ahead of the four-day event, which starts tomorrow, we take our pick of the models expected to take centre stage at Dubai Festival City.


Aprilia RSVR

Sometimes proving a point once is not enough. When Aprilia introduced their path-breaking RSV4 superbike in 2009 – the precursor of this present model – everyone hailed it as a masterpiece. The bike had one of the most successful first seasons ever in the World Super Bike racing series and was marked a definite champion for the near future. But critics said it was too track-focused and expensive.

As if to prove it can offer high technology at affordable rates, Aprilia introduced the RSVR, a more street-friendly, stripped down version. Price-wise it competes with Yamaha's R1 and Honda's Fireblade, but on technology and performance, it is on a whole different level.

The 999cc V4 engine generates 180 horses to propel this 184kg featherweight to around 300kph. Being the lightest and smallest of superbikes on the market, its calling card is its performance.

"Even in the middle of the recession last year, the RSV4s we received from the factory flew out of our showrooms – this for a Dh75,000-plus bike. Imagine what kind of response we will have for the less pricey RSVR," said Shivani Duseja, Aprilia's UAE Operations Manager.

Bikers know it's a thinly disguised race bike pared down for the mass market.

BMW SR1000R

The Germans were coming for a long time. Now they have finally arrived. And they are finally Japanese enough to out-Japanese the Japanese. If that sounds like Greek to you, here's the latest from Munich.

After several decades of making bikes that others called BMWs and not bikes, the chaps at Bayerische Motoren Werke Motorrad – BMW Motorcycles to you and me – finally decided they had had enough. So out went every quirk BMW famously developed over the years.

For the SR1000R, BMW's boffins eschewed all trademark attributes such as shaft drive, paralever front suspension and boxer engines. Sticking to conventional Japanese superbike wisdom, they went for a four-cylinder, in-line 1000cc engine, chain drive and inverted forks.

Everything you can find on a conventional class-leading litre bike is on this Beemer, only better. With 193bhp and 185kg, it has the measure of the opposition. Even the famous Suzuki Hayabusa has fewer horses at the rear wheel.

This is not the bike that a part-time Jedi knight and his friend Charlie take a spin round the world on. Instead, it is a bike to wallop the Japanese on global grand prix race tracks. Already they are calling it the most significant launch of the year and it is projected to win awards on almost every continent. And BMW says you can see it in the flesh for its Middle East launch on its stand.

Victory Vision

That Victory was in thrall with the concept of the cruiser when they designed the Vision is to put it too mildly. Just looking at the bike from tip to tip is a mini cruise in itself – and a fantastically futuristic one.

Anyone who sees it parked in the street would be forgiven for calling the police to report that contact had just been made with aliens, one of whom had landed on Earth, parked his lander and perhaps dunked into a café to sample the shisha.

With a 97bhp 1700cc V-twin capable of lazily chugging back and forth between the Atlantic and Pacific coasts, this is the quintessential American cruiser of the future. Move over Harley. And it's fitted with all imaginable bells and then some whistles: Cruise control (yes, on a bike), satellite radio, an integrated audio system with an iPod dock, heated seats, power windshield, an on-board computer, GPRS…

Truly, the day is not far off when they will make this thing fly. This edition of the expo may be your last chance of seeing it before they do!

Kawasaki Z1000

Kawasaki's naked beast is back. The original Z1000 was one of Kawasaki's legendary speed demons of the 1970s, when the company single-mindedly pursued two things – speed and more speed. Then in 2003 they resurrected the Z1000 name in the form of a fiery naked with dramatic looks and lively performance, which was deservedly a hit. But come 2007 and an update of the model failed miserably in the market and was pilloried for being less powerful, heavier and less attractive than both the competition and its previous iteration.

But this year Kawasaki cannot be faulted for lack of effort in presenting the Z1000's new avatar. The new bike has a larger engine, a lighter aluminium frame and a meaner, macho design. Its 136bhp of power is produced by a 1043cc motor – the first in a Z to breach the litre mark – and top speed is a claimed 257kph. The bike has the power, handling and looks to challenge its main rivals form Honda and Yamaha. On looks alone, this angry, menacing and purposeful bike seems a class winner. Thundering down Sheikh Zayed Road, it could give back in kind to any bully in an SUV.

While Liberty Kawasaki, the Dubai dealers, could not confirm whether the model would take centrestage at their stand, it is still one of the bikes we would love to see on UAE roads.
Keep up with the latest business news from the region with the Emirates Business 24|7 daily newsletter. To subscribe to the newsletter, please click here.
Follow Emirates 24|7 on Google News.