Rallying around the Emirates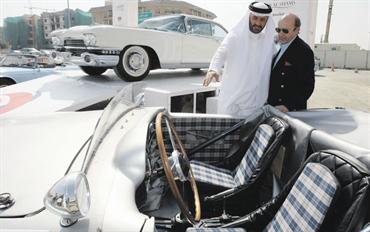 Prized cars got the green light today as the first Total Transemirates Classic Rally started its journey across the UAE and into Oman.

Organised by the Automobile and Touring Club for the UAE (ATCUAE), the event marks a change of pace and new era for classic motor fans in the region.

Beginning in front of the Radisson SAS Hotel on Deira side of Dubai Creek, 42 male and femaleteams from Europe will head to the ATCUAE in Sharjah before setting off for Ras Al Khaimah.

Every day the teams will spend the morning driving to a different town, and relaxing and sight seeing in the afternoon.

There will be various viewing points along the route for spectators to see the cars, the most expensive of which are a Mercedes and a Porsche Spider 550, which was once driven by 1950s Hollywood star James Dean worth €250,000 (Dh1.2 million).

Organiser Jean-Pierre Armandet, from the TTP Organisation, a classic car rally organiser, flew in from France on Thursday to officially launch the rally, which he insists is not a race, but hopes it will be the start of a classic car institution in the UAE.

"I know there are a lot of classic cars here but people keep them in the garage rather than take them on the road," he said, adding that the oldest cars to take part are a 1930 Cadillac and Chevrolet.

"It's unique because most rallies only feature men but each car will have one man and one woman. It probably won't take place every year – perhaps every two, and it would be nice to have some Emiratis join in."

John Spiller, the Motorsport Director of the ATCUAE, however, has aspirations that it might become an annual event but doing so will leave the drivers without their cars for three months of the year due to shipping times.

"It's the first major foreign classic car invasion of the UAE," he said. "I'm sure they will enjoy it and events like this will spark enthusiasm and in time local participation will grow. We have a couple of locals joining for one day and it will be good seeing UAE licence plates among the cars. It's steady driving with time split 50:50 between being behind the wheel and tourism."

Armandet is a veteran of more than 20 years of rallying. The majority of events are held in Europe but he put the wheels in motion for a Middle East event in 2000. He has also got his son, Alexandre, keen to the point where he will drive a Mercedes 190SL Tourensportwagen for the next seven days.

"It's a great way to discover the country," said Alexandre, who does one rally a year. "I've always loved classic cars and it will be nice to drive here, especially because I do not have a roof – which can be a problem in Europe when it rains."

With stops at Le Meridien Al Aqah hotel, Bab Al Shams and Jebel Hafeet as well as a foray into Oman tomorrow when the participants will spend the night in Khasab, the driver will certainly get to see some of the country's best sites – and give spectators numerous opportunities to watch the motors in action. Participants have come from all over Europe, including France, Belgium, Norway and Turkey.

Some of the best vantage points will be on Dubai Creek today, as well as Dubai Autodrome and Jumeirah Mosque next Thursday.

Former rally champion and President of ATCUAE, Mohammad Ben Sulayem, is also keen to build local interest in the sport.

"I believe there is a culture of classic cars here but we have needed someone to encourage it and I hope to see more events of this kind in the future," he said.

"It's planted the seed and hopefully people will now take it up as a hobby."

With the cars poised and polished the only thing they have to worry about now is completing the 1,100km route, especially because help is limited.

"There will be technical assistance but if they can't sort it out on the road, the car will have to go on the trailer but all the drivers accept that," says Spiller.
Follow Emirates 24|7 on Google News.