Relive the golden age of motoring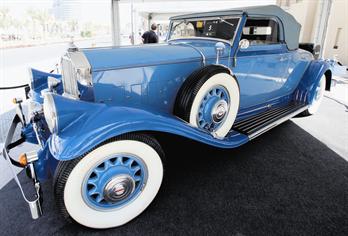 If you were to believe all those officious chaps in black frock coats who rack their brains about this sort of thing, then we are already in the age of "Future Cars". And going by the present global economic circumstances and the ever-present oil price fluctuations, that future doesn't look very bright.

Cars, as we know them, have suddenly found disfavour with the world of man as we had never known them to. No, not in Dubai, where they will still keep promenading down Sheikh Zayed Road for a long time to come as relics of a more expansive and wasteful past.

But long ago there was a time – globally – which was expansive and, when it came to cars, wasteful. Well, opulent, really, is closer to the mark. And no, not in Dubai again, which woke up to the potential of the car when those black frock coats had already decreed them to be in their "modern" age.

As a testimony to that golden age of automobiles, redolent with the fragrance of fresh unleaded petrol and grease, Emaar has organised a promenade of cars of a different sort – the First Burj Dubai Classic Car Show, which began yesterday. And if automotive art appeals to you, there is all of today to see these beauties at the Burj Dubai Boulevard, vote for your favourite and see the prizes being given out.

Emirates Business brings you our six chosen show-stoppers.

1959 Ford Skyliner

Here's proof that technology hasn't really progressed as much as we think it has. If you marvel at the electronically retractable hard tops of sundry modern Peugeots, Volkswagens, Mercs and Renaults, know that the ancient practice of changing a hard top car to a convertible at the flick of a switch started way back in the 1950s with Ford's Skyliner. And a look at the beautiful lines of collector Rafiq Mahmoud's blue and white Skyliner might well confirm that whereas we may have gained in technology over the years, we've surely squandered in design.

1967 Ford Mustang GT390

While too young to strictly be a classic car, Bob Jarmson's Mustang, which he brought over from Canada, has been featured in magazines and TV shows and won a few awards at both local and international shows.

One of the few owners in attendance at the show, Jarmson said: "I brought the car over a year and a half ago and it's been around Dubai. I also brought a box full of spare parts for the maintenance. But this is a simple car compared to a Porsche or Lamborghini, so the maintenance is pretty simple. I've got a workshop manual and I do most of my own work at home.

"I use it a couple of times a week – it was actually meant to be used everyday. But there is value in this car and you don't want it to be run down or have an accident. I also don't want it to be outside in the summer heat, so it's got an air-conditioned garage that it lives in."

And this red beauty does look pampered and well looked after albeit with an intent for speed written all over its design.

1955 Mercedes Benz SL 300 Coupe

When Stuttgart unleashed this racer for the street in 1954, the world was unsuspecting and innocent. The first ever fuel injected petrol car, this 3,000cc, 222bhp Le Mans winner in disguise could touch 260kph, making it the fastest production car and the first to go beyond 240kph. All that seemed secondary, though, to the two hydraulic "gull-wing" doors with top hinges that opened upwards like wings. The world had found its prototype for a new genre – the supercar.

The car here is from the personal collection of UAE collector Khalid Yousuf Al Baker.

1949 Cadillac 62 Series Coupe

The Second World War had ended, the US was on top of the world and oil was something that sprouted from a well in every second Texan backyard. The Cadillac 62 cost $6,000 (Dh22,000) when it was introduced. Today, this behemoth, owned by the Automobile and Touring Club of the UAE, can still claim a move-over-to-the-slow-lane-or-else kind of presence in Dubai.

1921 Ford Model T Touring

This beautiful, open-top car in gleaming black and red is the property of proud owner Lebanese Amr Said Rashed. He spotted it on the internet and had it shipped over all the way from Hawaii – half a world away. Every part of the car is 1921-assembly-line authentic. Except one: Rashed has fitted an electric starter for the motor so that you don't have to walk to the front and crank the engine to life.

How to own a classic car

So you have fallen in love with one – or perhaps several – of these beauties and would like to buy them. It's fairly simple, especially when compared to maintaining them: Locate the model you want to own anywhere in the world, buy it and have it shipped over. As Amr Rashed has done.

He bought his Ford on the internet from its previous owner in Hawaii and got it over. "You need to pay a five per cent tax in the UAE, which is required by law, and it can be registered without hassles with a certificate of authenticity," he said.

The certificate is granted by the Automobile and Touring Club of the UAE (ATCUAE), headed by rally legend Mohammed Bin Sulayem who is also the Vice President of the Federation Internationale de l'Automobile (FIA). The ATCUAE is a member of the Federation Internationale des Vehicules Anciens (FIVA), the global authority for historic vehicles.
Follow Emirates 24|7 on Google News.