Rental cars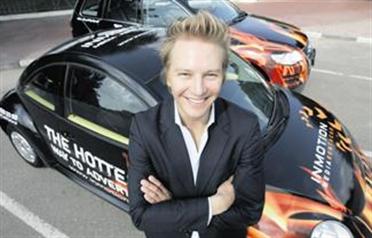 A new car rental company is taking on the big guns in the UAE by offering vehicles for just Dh10 a day.

The offer from InMotion Media has just one condition – the cars are branded. The idea behind the scheme is that companies subsidise rental charges by paying to have their firm plastered all over the car as a way of mobile marketing. They do, however, have non-branded cars too, but these currently start at Dh3,500 for a VW Beetle.

While having advertising emblazoned across your motor might not be everyone's taste, the cost is low. But what's the downside? Emirates Business met up with co-founder and Managing Director Gregor Streyzowsky to find out.

How did the idea of branded cars come about? It already exists in Europe and the United States and we decided it would fit in the UAE because there is not only a huge car market here, but there is always demand for rental cars. Dubai and Abu Dhabi are concentrated cities, so it gives the brands a highly effective form of advertising that's cheaper than other ways of promotion and customers get cheap cars so it is a win-win situation.

Dh10 a day is nothing, so how much are companies paying for the privilege? It varies because some prefer to design the cars themselves, while others want us to do it, but it starts at about Dh6,600 a month.

Are there any conditions to renting? We want to make sure the cars are driven for optimum visibility so we do put restrictions on them, such as people can only rent them for a week at a time because we don't want them sat in a garage for days at a time where no one sees them. Drivers also have to do at least 30km a day and if a client wants to advertise in certain hotspots then customers must go there.

Does this put anyone off? Not so far. We have 50 cars at present but will have 170 within the next few months and there's a waiting list. It's not only cost effective but also great for tourists or residents who have family to visit and need a bigger car, or those in transition between cars.

Which model is most popular? At the moment we are renting out the VW Beetle and Touareg but most want the Touareg as it's the more expensive car.

If a driver is reckless, can a company request they not be given their car again? They can but all cars are fitted with GPS so we know where they are and a system that triggers an alarm to us if they are speeding or driving recklessly and they will be fined because we want to ensure their use and customer image.
Price comparison for one day
InMotion branded Touareg: Dh10 a day
InMotion non-branded Touareg: Dh200
Hertz Prado: Dh621
Discount Rent a car Nissan Pathfinder: Dh375
Diamond Lease Mitsubishi Pajero: Dh520
Follow Emirates 24|7 on Google News.